July 27, 2017
The time is here: Submit your entry to McKnight's Tech Awards by tomorrow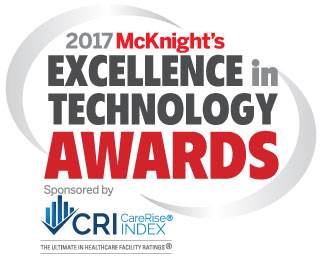 2017 McKnight's Excellence in Technology Awards
Long-term care providers have until 11:59 p.m. tomorrow to enter the McKnight's Technology Awards. Don't miss a chance to earn recognition for caregiving efforts aided by some form of technology.
Facilities that submit entries will be eligible to win Gold, Silver and Bronze awards in the following categories: 1) Quality Through Technology, 2) Dignity Through Technology, 3) High Tech/High Touch, 4) Innovator of the Year and 5) Transitions.
To download an entry form, click here.
"Operators are harnessing technology in new and innovative ways that improve care delivery to our nation's oldest and frailest members like never before," said McKnight's Editorial Director John O'Connor. "But the only way to get your hands on an award is to impress the judges with the quality of your organization's work."
That starts with entering. The winners of the free competition, now in its fifth year, will be announced this fall and highlighted in a McKnight's Long-Term Care News feature. The competition is sponsored exclusively by CareRise Index.
Click here for more information on the competition.