March 04, 2016
The 'other' incontinence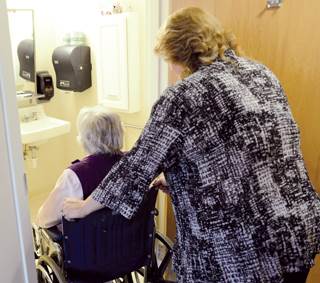 Advanced skin cleaners are made to ward off bacteria and moisturize the skin, but it's also necessary for the caregiver to receive training, such as front-to-back wiping and not being too aggressive o
Fecal incontinence affects roughly half of all nursing home residents and represents a leading cause of admission to skilled nursing facilities.
That's hundreds of thousands of individuals per year.
Aside from the psycho-social impact the condition has on residents, fecal incontinence also can compromise skin integrity, lead to secondary infection, increase fall risks, and place other residents at risk of infection if not managed correctly, experts warn.
"There's no getting around it — fecal incontinence can be embarrassing for residents and unpleasant for staff. But caring for residents with fecal incontinence is critical to protect them from incontinence-associated dermatitis and prevent the spread of serious infection in long-term care facilities," says Beth Young, BSN, RN, CIC, a clinical consultant for GOJO Industries.
Poor technique during fecal incontinence care often stems from inadequate staff training and a misunderstanding of the symptoms, severity, risks and contributing factors of the condition. Some staff, for example, may not understand the different types of bowel dysfunction and how that can negatively impact the resident.
As Michelle Christiansen, vice president of clinical services and marketing for Medline Industries' personal care division, explains, severe constipation can contribute to fecal incontinence and fecal impaction.
"A symptom of fecal impaction may be incontinence, in which liquid stool can leak around the impaction and seep out," she observes.
Further, staff might not recognize how managing fecal incontinence differs from urinary incontinence. Although both forms of incontinence expose skin to moisture, the digestive enzymes and microorganisms in stool — especially loose stool — are particularly irritating. This can upset the skin's delicate pH balance and increase the risk of dermatitis and skin destruction.
Increased risks
Time and resource constraints can make proper management of fecal incontinence challenging, but prompt attention to each incident is crucial for stemming the risks and maintaining resident comfort and dignity.
"People with fecal incontinence have an increased risk for developing redness, irritation, discomfort and skin ulcers around the anal and perineal area. Skin should be gently cleansed as soon as possible following an incontinent fecal episode," note members of SCA North America's TENA clinical consulting team.
Gentle care involves key steps, many of which aren't always fastidiously followed by caregivers. Soap and water cleansing, for example, should be avoided because it can dry the skin and cause additional irritation and discomfort. General moisturizing lotions are also inadequate for protecting the skin from stool and related moisture, and heavy barrier products can further induce skin breakdown if they're not specially formulated for perineal care, various experts note.
"Caregivers continue to coat the skin with heavy zinc and petroleum products in an attempt to provide a barrier between the skin and the elimination when, in fact, a high quality incontinence product can provide this for you without decreasing the breathability and moisture vapor permeability of the skin," says Jeannette Podlogar, clinical support manager at McKesson Corp.
Today's advanced skin cleansers are designed to clean, moisturize and protect skin by keeping skin pH between 5.0 and 5.9. Proper pH helps ward off bacteria and fungus, Podlogar adds. Aside from dedicated incontinence skin care products, she says manufacturers are now developing briefs that log and track each episode of incontinence, allowing caregivers to identify trends in resident voiding patterns, plan a continence routine and, possibly, decrease incontinence episodes by at least one per day. Briefs that quickly wick away moisture — even the liquid from stool — are also available.
Aggressive removal of barrier products is another common mistake. Sometimes, caregivers assume that zinc-containing products, for example, must be scrubbed off with each cleansing when, in fact, it's acceptable to remove only the stool through gentle, yet thorough, cleansing, according to Young. Front-to-back cleaning is also necessary to avoid urinary tract infections, sources note.
Being prepared
Incontinence management products are not one-size-fits all, either. Thorough evaluation of perineal products is prudent to ensure that products deliver a proper balance of cleansing and moisturizing, reminds Don Allegretti, skin care director for Betco Corp.
Aside from proper product selection, he urges facilities to implement a simple, yet effective training program for caregivers so they not only use proper technique when cleansing and protecting the skin, but also can recognize any skin-related issues before they become bigger problems. This is especially important since skin breakdown can occur in as little as two hours.
When assessing products, it's important to consider the weight and height of a person to determine the best size incontinence brief. Assessing the resident's level of independence also is important, says Christiansen.
"Can [the resident] express that they need to go to the bathroom or the level of absorbency required?" She also pointed out that when caregivers inspect, clean, moisturize and protect the skin, they often don't think about the role inadequate nutrition plays in skin breakdown.
"Skin requires a personalized approach and plenty of good nutrition, which it gets from the blood circulating within it. As we age, circulation diminishes and fewer nutrients reach the skin." Many lotions and creams now contain topical nutrients that can absorb into the skin to help it stay healthy and strong, she says.
Curbing contagions
Because acute diarrhea is often infectious in nature, prompt and proper assessment is essential for keeping infections contained. Stool specimens should be obtained to test for ova, parasites and C. difficile, according to Carolyn Watts, MSN, RN, CWON, president of the Wound, Ostomy and Continence Nurses Society.
Prompt diagnosis of C. diff., which is highly contagious and can easily spread among residents, is important, so that residents can be placed in isolation when warranted. Watts also recommends isolating residents with suspected, yet unconfirmed, C. diff., until test results are obtained.
Proper hand hygiene remains the top infection prevention strategy when managing fecal incontinence and preventing potential spread of infection. Gloves can offer a false sense of protection for staff, explains Sherrie Dornberger, RN, CDP, CADDCT, GDCN, CDONA, FACDONA, executive director of the National Association of Directors of Nursing Administration in Long Term Care.
"Staff always grab gloves when cleaning up a fecal incident, but those gloves pick up germs just like bare hands. Everything those gloves touch can become [contaminated]. Staff should change to clean gloves after cleaning up the resident and before applying the [barrier] product. And before leaving the resident's room, the gloves need to come off and hands need to be thoroughly washed with soap and water," she says, adding that the resident must also thoroughly wash his or her hands with soap and water. "This is true regardless of whether C. difficile is present."
Proper and consistent cleaning and decontamination of equipment and surfaces is also necessary to halt the spread of infection, stresses Allegretti. This includes high-touch surfaces in resident rooms, such as bedrails, countertops, faucets, doorknobs, light switches, and more, as well as handrails in hallways and surfaces in other common areas.
"Alcohol wipes can't clean everything," Dornberger notes. When cleaning up a fecal incident, caregivers shouldn't just rely on disposable wipes or other readily available cleaning products. Instead, they should alert housekeeping staff, so they can properly clean and disinfect, she says.
Spreading bad news
Reusing bath basins also can be problematic. As Young reasons, bath basin contamination rates range from 64% to 98%, with fecal organisms being the most prevalent contaminant. Disinfectants used to decontaminate reusable equipment and high-touch surfaces in the rooms of residents with infectious diarrhea should have the appropriate label claim against these organisms.
"This is important because some disinfectants commonly used in healthcare facilities may not be effective against C. difficile or norovirus," Young says.
Alcohol-based hand gels and foams are not adequate for removing microbial load; therefore, staff, residents, family members and other visitors must wash their hands with soap and water before leaving the room, she says.
Staff also should understand that it's not always easy to identify C. diff by sight or smell. Although C. diff often does have a distinctive odor and consistency, it's not an ironclad differentiator. "Even normal-looking stool can still contain C. diff," Dornberger stresses.
When disposing of any stool or fecal liquid, staff should never empty the dirty water basin in the sink. Instead, it should be emptied down the toilet or dedicated utility sink, she adds. "And no brief, regardless of whether it contains C. diff stool or not, should ever be placed in the waste basket in the resident's room. It should be contained in a bag and placed in the [dedicated] bin in the utility room."
Staying ahead of events
Although proper and prompt attention to any incontinence event is essential, the same applies to thorough and ongoing assessments to establish a baseline for each resident and pinpoint any changes that might contribute to an incontinence event.
As TENA clinical care team members explain, staff can cause such an event by failing to know residents' toileting patterns. Bowel and bladder records should be completed accurately and thoroughly, so appropriate toileting programs and interventions can be put in place for both bowel and bladder.
Ideally, a caregiver will log the time, frequency, volume and consistency of each bowel movement day and night, adds Christiansen. Further, the log should indicate whether the resident is continent, whether the disposable absorbent incontinence pad was soiled, and also the duration, ability and any difficulty with defecation.
"Within a week or so, the observer should see patterns develop that will help the caregiver get in front of any incontinence episodes," she says. "When done properly, bowel assessments allow caregivers to be proactive instead of reactive, which ultimately benefits the resident, the caregiver and the facility."
Understanding patterns and risks also can help prevent slips and falls that can happen when residents try to make it to the toilet on their own.
Last, but not least, successful management requires multidisciplinary involvement to ensure resident care needs are effectively, consistently and compassionately met. Frontline caregivers, providers, nurses, dieticians and therapists must work together to develop the most appropriate treatment plan, and each must understand there are multiple causes for fecal incontinence and diarrhea.
"Fecal incontinence can be chronic or acute, so knowing the client's history is very important," observes Watts. "It's important to have as much information as possible about the client and their situation leading up to [the incontinence event] and then intervene immediately when a client develops acute diarrhea. It may be necessary for clients to be transferred to a hospital for acute management of severe diarrhea to prevent significant or even life-threatening problems."