August 01, 2012
Taking the 'blues' out of 'bluegrass'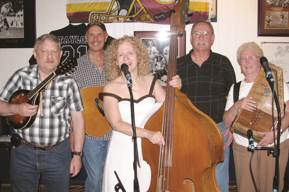 Taking the 'blues' out of 'bluegrass'

Bluegrass fans are well-versed in the music's invigorating effects. Now, residents at a Silver Spring, MD-continuing care retirement community have ample opportunity to both play and listen.

For the last eight years, members of the Lonesome Pine Band — which is composed of six to eight assisted and independent living residents — have been meeting regularly for improvised bluegrass jam sessions. They used to perform in local bars and other music venues, but in recent years, their biggest and most enthusiastic audience comprises assisted living and skilled nursing residents at the Riderwood retirement community.

Every two or three months, the Lonesome Pine Band plays to an audience of about 180 residents. The band entertains suggestions from the audience and encourages singing or playing along.

"We practice about once every two weeks or so," Bruce Clark, Lonesome Pine's 73-year-old banjo and guitar player says. "But most of our jams are 80% improvised. Bluegrass by its nature is more extemporaneous. Almost everybody plays by ear."

"Every time we do a program, people who aren't musicians will come up to us in hallway and say they like the fact that there's live music that you can tap your foot to. And the fact that we're free doesn't hurt," adds Pat Kral, the band's 74-year-old autoharp player.