October 29, 2008
Survey: Average cost of private nursing home room drops in 2008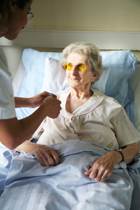 Number of nursing home beds, residents decreasing, report finds

The charge for a private nursing home in 2008 dropped about a half percentage point over a year earlier, while the national average for a semi-private bed rose just 1.1%, according to a new national survey released Tuesday.

The average private room charge dropped from $213 to $212 ($77,380), while the semi-private charge inched up from $189 to $191 ($69,715 annually), according to the MetLife Market Survey of Nursing Home &Assisted Living Costs.

Average assisted living daily charges rose 2.1%, from $2,969 per month to $3,031 ($36,372). The report noted that many advertised assisted living rates do not reflect what final costs will be. While "basic" service averaged $2,873 monthly, a "standard" package (with more services) averaged $2,985 and an "inclusive" package covering even more personal care averaged $3,354.

For more on average nursing home and assisted living rates in each of the 50 states, including sub-areas within them, visit www.maturemarketinstitute.com and click on "What's New."