February 01, 2011
Supreme Court to rule on law that disallows Rx info sharing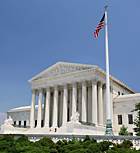 The U.S. Supreme Court building

Is it legal for states to prohibit the commercial use of physician prescribing data? The Supreme Court is about to weigh in.

The decision follows a victory for vendors that provide such data, including IMS Health, SDI and Wolters Kluwer. In Vermont last November a federal appeals court reversed a district court ruling that limited the commercial exchange of prescriber data. Unlike New Hampshire, where a ban on prescriber data remains in place, physicians in Vermont had to give consent in order for their prescribing records to be tracked; without that consent, data firms were not allowed to sell a doctor's prescribing data to pharmaceutical marketers in Vermont, according to Phil Oliva, a spokesman for IMS Health.

That stricture, which drastically limited the prescribing data available with respect to Vermont doctors, infringed on First Amendment protections by limiting the free exchange of commercial information, the data firms claimed.

The 2nd U.S. Circuit Court of Appeals agreed last November, overturning a lower court decision that upheld the limited ban. That prompted Vermont Attorney General William Sorrell to file a petition with the Supreme Court on Dec. 13. On Jan. 7, the court granted a writ of certiorari, meaning it agreed to hear the case.

The case is expected to be argued in April, with a decision coming in late June, according to Oliva. Calls to the Vermont Attorney General's office were not immediately returned, but Attorney General Sorrell said in a statement that "Vermont doctors pressed for this law because of their concerns about privacy, and because they view this data mining practice as an intrusion into the way doctors practice medicine. We look forward to defending this important law in the Supreme Court."

Oliva countered that opinion and said that prescriber data is already legally collected for other purposes.