March 01, 2016
Supreme Court shuts down arbitration case involving Golden LivingCenters, HCR ManorCare facilities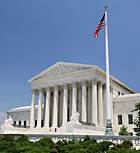 The Supreme Court declined to review the case
The U.S. Supreme Court has declined to review a nursing home arbitration case involving Golden LivingCenters and HCR ManorCare Inc. facilities in Pennsylvania.
Golden petitioned the Supreme Court late last year to review an October ruling by the Pennsylvania Supreme Court that voided some arbitration agreements that relied solely on the National Arbitration Forum's code to resolve disputes. The National Arbitration Forum no longer arbitrates consumer disputes.
The lawsuit, Wert v. ManorCare of Carlisle, was filed by the estate of a deceased nursing home resident whose family said her conditioned worsened during a stay at a Golden facility, following a two-month stay at an HCR ManorCare facility. The suit alleged abuse and neglect at both facilities.
With its refusal to review the Pennsylvania court's decision, the U.S. Supreme Court on Monday joined other state courts that have deemed some arbitration agreements unenforceable because they relied solely on the NAF code. At the time of the Pennsylvania Supreme Court's decision, experts predicted that the case would have "broad implications" for recognizing the "lopsided balance of power" between nursing homes and the consumers they enter into arbitration agreements with.
Last week the Arkansas Supreme Court ruled in favor of a nursing home's whose arbitration agreement hinged on the NAF code, stating the dispute can still be arbitrated with the code even if arbitration isn't conducted by the Forum.