April 20, 2016
Supreme Court grapples with concept of 'implied' False Claims case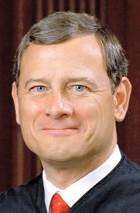 Chief Justice Roberts wondered what the limit of implied certification is under the FCA
The nation's highest court struggled Tuesday during oral arguments in a controversial False Claims Act case to determine at what point a false claim truly is "false."
The primary arguments heard in Universal Health Services Inc. vs. United States revolved around the theory of implied certification. The theory assumes that providers are compliant with federal regulations when they file for reimbursement, even if they did not state that they were compliant.
Long-term care providers, and healthcare providers in general, have increasingly been targets of False Claims complaints.
Under implied certification, providers can be found in violation of the FCA if their claims don't comply with certain regulations, even if those regulations aren't a condition of reimbursements.
Healthcare groups have bashed the theory as a "one-size-fits-all" solution that puts providers at risk by lowering the bar of what can be defined as fraud. The case is also one to watch for providers, experts have noted, as it may help clear up some gray area surrounding the FCA and reduce litigation on certain fraud issues within the industry.
Supreme Court justices' questions Tuesday aimed to find the limit of what the government considered fraud under the FCA, with Chief Justice John Roberts asking if "every material breach of a federal contract [is] an FCA violation."
The justices appeared less keen to reject the theory of implied certification entirely and honed in on "where to draw the line," told Roger Cohen, senior counsel for Proskauer Rose LLP, to Bloomberg BNA. Based on Tuesday's arguments, Cohen noted, it's unclear "where that line would be drawn."