October 11, 2016
Study: More hospitalized SNF residents using ventilators, despite lack of improvement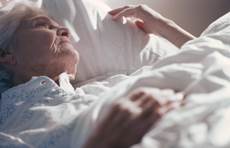 Mortality rates for residents put on a ventilator when hospitalized have not changed, researchers found
An increasing number of nursing home residents with advanced dementia are put on mechanical ventilators when they're hospitalized, despite the fact that the treatment doesn't improve their chances of survival, a new study shows.
Thirty-nine out of 1,000 Medicare beneficiaries with advanced dementia were treated with a mechanical ventilator upon hospital admission in 2000. That number doubled to 78 out of 1,000 in 2013, according to researchers at the University of Washington and Brown University.
Despite the increase, the one-year mortality rate for the ventilated beneficiaries remained at more than 80%.
The study's findings, published Monday in JAMA Internal Medicine, point out the need for healthcare professionals to make sure that the use of mechanical ventilation is in tune with beneficiaries' conditions and goals of care.
"We want to raise a fundamental policy question of how to improve end-of-life care, and particularly for very vulnerable populations," said lead researcher Joan Teno, M.D., MS, a professor of medicine, gerontology and geriatrics at the University of Washington. "We want caregivers to think and talk about whether this type of care is achieving the patient's goals and value for society."
Teno's research also discovered an increase in the use of mechanical ventilation for hospitalized nursing home residents that was linked to increasing numbers of intensive care beds within individual hospitals.
Hospitals with the highest number of ICU beds put patients on ventilators in 10.6% of the cases analyzed by Teno's team; those with the lowest number of ICU beds used ventilators in 4.5% of hospitalizations. The hospitals with the highest number of beds were also reimbursed more than hospitals with fewer beds, despite "scant difference" in the one-year mortality of hospitalized residents, researchers noted.
Researchers encouraged skilled nursing providers to talk with families about a loved one's prognosis, and the risk and benefits that would accompany hospitalization. Hospital providers should make sure that decisions to use life-sustaining treatments reflect each patient's' goals of care, they added.