December 22, 2011
Study: Complete discharge summaries improve patient safety, prevent readmissions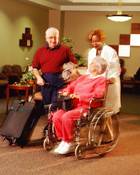 Minnesota nursing homes have lowest rate of hospitalizations, Mississippi and Louisiana the highest,

Sending complete, thorough discharge summaries to nursing homes when a person leaves a hospital promotes resident safety and lowers risk for readmissions, a new study finds.

The Joint Commission, which accredits healthcare facilities, requires hospitals to send discharge summaries to nursing homes within 30 days of a hospitalization, but University of Wisconsin researchers found these reports are frequently incomplete or delayed.

Of the 489 discharge summaries investigators studied, 40% excluded therapy and activity needs, and less than 10% included information about pending tests.

"Right now, the Joint Commission standard for the creation of discharge summaries within 30 days is outdated, because this standard doesn't optimally support patients who need care right after discharge," said lead author Amy Kind, M.D. "Our study is the first to suggest that the quality of the actual document starts getting worse the longer you wait to create a discharge summary. Important items are omitted, and because of that, patient care may suffer."

The study was published in the Journal of General Internal Medicine.