March 17, 2009
Study: Case-mix Medicaid reimbursement systems contain disincentives for nursing home quality improvement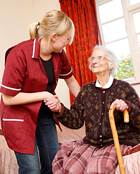 Editors' Blog: Nursing homes show quality improvement

Nursing home Medicaid reimbursement systems can work to improve quality of care—but they have to be used the right way, a new report suggests.

The Long-Term Care Community Coalition (LTCCC) conducted a one-year study of 35 states that use a case-mix Medicaid reimbursement system—a system that reimburses nursing homes based both on quality performance and facility costs. The system has a few built-in disincentives for quality improvement, the study finds. Because residents who require a high level of care bring in more Medicaid money, those who don't may be passed over for care. Also, when heavy care patients improve, they are downgraded to a lower reimbursement category.

The coalition makes a few recommendations for nursing homes and states to improve the use of Medicaid reimbursements. By encouraging spending in direct care and by shifting the focus of reimbursements away from facility costs and toward quality measures, overall quality of care could improve. Also, identifying specific patient needs, setting goals for reimbursement incentives and mandating program and outcome requirements for residents may help improve access for both heavy-care and lighter-care residents.

The report focuses specifically on New York state and its reimbursement system, but takes into account 34 other states with similar systems. The full report can be found online at www.nursinghome411.org.