February 01, 2012
Still a caregiver at heart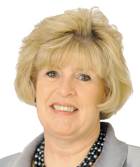 Patricia Ostaszewski

The new leader of the American Hospital Association's Governing Council for Long-Term Care and Rehabilitation has been a chief executive officer for the past 15 years.

But at her core, Patricia Ostaszewski still considers herself a nurse.

The daughter of a registered nurse and the mother of a registered nurse, Ostaszewski started her career as a registered nurse. She transitioned from acute to long-term care and rehab in 1989. Then in 1996, HealthSouth Rehabilitation Hospital of Toms River (New Jersey) asked her to move from her chief nursing officer post to tackle a bigger role: chief executive officer.

"They actually said, 'Just try it, get back to us,'" recalls the woman her staff calls "Patty O." "That was a turning point in my career. HealthSouth saw potential in me that I did not see in myself."

Within her role at AHA, Ostaszewski predicts an "interesting year" for those in the long-term care field.
"We're all working on delivery of high-quality care in an environment that's uncertain," she says. At HealthSouth, she's focused on the clinical care of patients.

"I think what we've been able to do is really perfect what an acute rehab patient is rather than a SNF patient in the sub-acute setting," Ostaszewski says.

Rehab physician Joseph Stillo, M.D., Ph.D., medical director at HealthSouth Toms River, has known Ostaszewski for 13 years. He said she's grown as a leader.

"She's become more flexible in consideration of other people's perspectives," he says. "She brings a clinical perspective to rehabilitation. She's worked in the trenches. She's goal-oriented and an effective communicator."

A lifelong New Jersey resident, the 55-year-old Ostaszewski walks several miles a day with her dog, a Shih-Tzu named Priscilla. She credits her husband, Ted, a middle school science teacher, with covering many of their household's varied parenting and domestic needs. They have two daughters, now both in their 20s. Lindsey is a nurse and Jennifer is an occupational therapy student at Seton Hall University.

"I would not have had a successful career if it wasn't for him," Ostaszewski says of her spouse. "He's the stable factor in our lives. He's the cook. He's been there for both of our daughters."

In the same way that HealthSouth encouraged her to become a CEO, Ostaszewski says she wants to encourage younger healthcare workers, especially women.

"A lot of us, we just don't want to take that leap [into executive positions]," she says. "I would encourage more females to do that. Healthcare has a lot of opportunities to offer to young people."

Denice Gaffney, the director of marketing operations at Health South Toms River, says she became one of the beneficiaries of Ostaszewski's guidance when she started as a physician liaison 16 years ago.

"She mentors you and helps you to come up with a solution, and develop critical thinking skills," Gaffney says. "She loves to see people develop and grow. She's one of the most professional and ethical women I've worked for."
Preferred qualities in a long-term care registered nurse — or CEO — for sure.

Resume
1977
Starts as staff nurse at Bayonne (NJ) Hospital

1987
Completes bachelor's degree at New Jersey City University

1989
Transitions from working in acute care to rehabilitation and long-term care; hired as an evening nurse supervisor at HealthSouth Rehabilitation Hospital of Toms River, NJ

1992
Promoted to chief nursing officer at HealthSouth; finishes master's degree in healthcare administration

1995
Becomes licensed nursing home administrator

1996
Promoted to CEO at HealthSouth

2012
Becomes head of the American Hospital Association's Governing Council for Long-Term Care and Rehabilitation