December 01, 2013
State News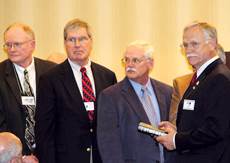 Delegates of the N.C. Senior Tar Heel Legislature
Midwest
Town 'dementia-friendly'
WISCONSIN — Watertown is taking steps to become a dementia-friendly community — possibly the first in the United States.
The effort is being spearheaded by Jan Zimmerman, RN, administrator of the Lutheran Home Association's Heritage Homes assisted living and memory care center in Watertown. The community is about 40 miles east of Madison.
Businesses in the town of 24,000 can sign a pledge to become dementia-friendly, and display a purple angel in their windows to signal their commitment. These businesses can attend training sessions held by the Watertown Dementia Awareness Coalition, covering customer service practices that benefit those with dementia. The Coalition hopes to sign up 50 businesses by the end of 2014, according to local reports.
The concept of dementia-friendly communities has caught on in the United Kingdom, but Watertown might be the first in this country, said Lori Le Bey, founder of Alzheimer's Speaks.
Northeast
Salary caps spur suit
NEW YORK — A group of long-term care providers is suing Gov. Andrew Cuomo (D) over a cap on executive salaries imposed in 2012.
Under an executive order, leaders at nursing homes, home health companies and other providers that draw on state funds for compensation are limited to a $199,000 yearly salary.
Cuomo took issue with what he termed "outsized compensation" and said that a greater proportion of state funds should go toward direct care.
More than 200 for-profit and not-for-profit providers have banded together to challenge the order, arguing that salary caps, if imposed, should be set by the legislature. They also argue that the policy is hard to understand and will be difficult to comply with.
For example, there are exceptions to the $199,000 limit, but these can only be applied if an operator knows what salaries are at "similar" facilities. There is no clear definition of "similar," Jim Clyne, president and CEO of LeadingAge New York, told local reporters.
LTC association cheers law
PENNSYLVANIA—The Pennsylvania Health Care Association has applauded state lawmakers for passing "benevolent gesture" legislation.
The law, signed by Gov. Tom Corbett (R) at the end of October, offers protections so that healthcare providers can apologize for an unforeseen medical outcome without fearing that the apology will be used against them in malpractice litigation.
"When an adverse outcome occurs, whether because of an unforeseen circumstance or a medical mistake, healthcare providers want to explain what happened and patients want to be told what happened," said Stuart H. Shapiro, M.D., president and CEO of PHCA.
The long-term care provider association believes the legislation will encourage better communication between providers and patients and ultimately reduce the number of lawsuits. Research has shown that many lawsuits are filed out of anger, and these potentially could be avoided if providers feel freer to apologize, according to PHCA.
Southeast
Legionella strikes facility
ALABAMA — One person died and more than a dozen were sickened by an outbreak of Legionella pneumonia at the Glenwood Nursing Home in Florence.
Two cases of the pneumonia were reported to the Lauderdale County Health Department in early October, prompting a response from the Alabama Department of Public Health. All the cases they discovered were at the 125-bed nursing home.
Long-term care advocates turn their attention to CNA staffing levels after drug-testing victory
NORTH CAROLINA — A citizen advocacy group called the N.C. Senior Tar Heel Legislature wants state lawmakers to address the number of certified nursing assistants in long-term care facilities.
The group's resolutions committee added "ratio of CNAs to residents in nursing homes" to its 2013-2014 legislative priorities during its last meeting of 2013, in Raleigh. Understaffing compromises resident safety and higher staffing ratios are associated with lower hospitalization rates and fewer government-cited deficiencies, according to the Tar Heel Legislature's statement of priorities.
Other priorities for the year include maintaining senior center funding and strengthening the adult protective services program.
The group also has been a strong proponent of drug testing for new hires and certain workers at nursing homes — measures that became law in June.
Each of the state's counties is entitled to send one delegate, age 60 or older, to the Senior Tar Heel Legislature. The North Carolina Division of Aging and Adult Services provides the organization with staff support.