February 01, 2013
State news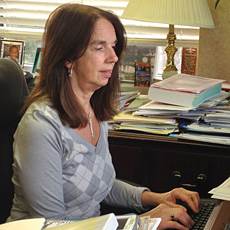 LuMarie Polivka-West, FHA senior director of policy and program development
Southeast
FLORIDA – The Florida Health Care Association (FHA) criticized a report that one in five Florida nursing homes appears on the state's watch list for failing to meet minimum care standards or correct violations within a specified time frame.
Advocacy organization Families for Better Care (FBC) recently analyzed the watch list compiled by the state's Agency for Health Care Administration, identifying facilities that have been on the list for 100 or more days. Families for Better Care called for better distribution of the list.
The FHA says transparency is important, but caution must be exercised to give a fair and accurate picture, as reports that focus only on deficiencies give a skewed picture to the public. The group notes FBC's report includes some facilities that are no longer on the watch list, and it does not inform the public about the current state of facilities that are making strides to improve care. LuMarie Polivka-West, senior director of policy and program development for the FHA, says federal reports from the last two years show more top-rated and fewer low-rated facilities in the Sunshine State, according to
Health News Florida
.
Officials push for VA home
Kentucky – Public officials in the Bowling Green area are taking steps to bring a veterans nursing home to southeastern Kentucky.
There are three veterans nursing homes currently operating in the Bluegrass State and a fourth is under construction. However, none is within an hour's drive of Bowling Green.
Ray Biggerstaff of Alverton and Col. Robert Spiller of Oakland are spearheading efforts to bring a proposal before the state legislature. The two men recently addressed the Bowling Green Board of Commissioners and the Warren County Fiscal Court, according to the Bowling Green Daily News.
The county staff will begin looking for land that a VA nursing home could occupy, Warren County Judge-Executive Mike Buchanon told Biggerstaff and Spiller. Biggerstaff said 10 to 30 acres are needed.
Under VA's allocation, Kentucky can have up to 818 beds in veterans nursing home facilities. The existing three homes in Kentucky have a total of 561 beds.
Counseling options grow
GEORGIA – Three of Georgia's 12 Aging and Disability Resource Connections will expand options counseling, thanks to grants totaling $150,000 from the state's Department of Human Services, Division of Aging Services.
Georgia's ADRC counselors provide information about various long-term care options to community members as well as residents of skilled nursing facilities and hospitals. In 2012, 1,987 Georgia nursing home residents participated in options counseling, according to DHS.
"Programs such as Options Counseling being provided by Georgia's ADRCs make a difference every day in the lives of older adults, persons with disabilities and their families," said James Bulot, Ph.D., director of the Division of Aging Services. "The programs simplify their journey through the decision making process concerning complex issues."
The recently awarded grants will fund partnerships between ADRCs and medical facilities in the towns of Macon, Rome and Waycross.
Southwest
Ex-senator gets probation
OKLAHOMA – A U.S. district court judge sentenced 57-year-old Mike Morgan of Stillwater, former president pro tem of the state senate, to five years' probation for bribery related to nursing home legislation.
In March, a jury found Morgan guilty of taking $12,000 from Silver Oak Senior Living in exchange for introducing a bill that would allow residents to stay in assisted living facilities even if they needed nursing home care.
"When I first read SB 738, I knew it was a bad bill, and was not in the best interest of the elderly who reside in assisted living centers," wrote Mary Brinkley, executive director of LeadingAge Oklahoma, in a letter to the judge.
Morgan says he is innocent and received money from Silver Oak for legal services. He faced up to 10 years in prison and a $250,000 fine. Explaining the probation sentence, the judge cited suspect evidence and more than 400 letters to the court supporting Morgan. He will also forfeit the $12,000.
Northeast
Rapist on staff arrested
NEW YORK – A 64-year-old convicted rapist was arrested and jailed following allegations he sexually abused a 91-year-old resident at a Loudonville nursing facility.
Suspect Richard Ragone
was fired from the Loudonville Home for Adults after a worker reported seeing him inappropriately touching a resident in her room on November 30, the Albany Times Union reported. Ragone was arrested December 20 and reportedly confessed to the felony charges of sexual abuse.
Owner Michael Levine told reporters that the Loudonville Home for Adults conducts criminal background checks on prospective employees, but at the time Ragone was hired as a maintenance worker, no one was aware that he had served a prison sentence of more than 16 years for a 1983 rape.
An administrator was fired due to the Ragone incident and other management issues, a spokesperson for the home told reporters. Ragone was booked at the Albany County Jail, and bail was set at $25,000.
West
HHS audits PacifiCare
California – A federal audit estimates Medicare overpaid about $424 million to PacifiCare of California's Medicare Advantage plan in 2007 after processing inaccurate diagnosis codes.
The audit, undertaken by the U.S. Department of Health and Human Services Inspector General, found inaccurate risk scores for 45 of the 100 patients analyzed. The recently released HHS report highlights a number of specific instances, such as a diagnosis code indicating that a patient was suffering from prostate cancer, while medical records show the patient had a procedure to remove shoulder sutures but did not have cancer.
Among other objections to the report, PacifiCare owner UnitedHealth Group says there are errors inherent in Medicare fee-for-service data that auditors did not take into account. HHS acknowledges this is an issue being investigated by the Centers for Medicare & Medicaid Services, and says it adjusted its recommendations accordingly, directing PacifiCare to immediately refund only the $224,000 in improper payments specifically identified by the audit.
HHS also called on PacifiCare to work with CMS to resolve the issue of estimated total overpayment, and a CMS representative said the agency is willing to do so, CaliforniaWatch reported.
The PacifiCare audit follows a flurry of similar reports, including a November 2012 HHS report stating Medicare overpaid nursing homes more than $1.5 billion in 2009 due mainly to upcoding.
Midwest
PCAs win court battle
MINNESOTA – A 20% pay cut for personal care assistants (PCAs) caring for family members is unconstitutional, said the state court of appeals in St. Paul. The pay cut had been passed during a special legislative session in 2011 but was only in effect for days before being delayed until July 2013. The Minnesota Department of Human Services now has a 30-day window to review the court's ruling and determine whether to appeal to the state supreme court.
Some PCAs filed affidavits saying a pay cut would prevent them from providing current levels of care. PCAs "have the same training, they have the same experience, they're limited to the same number of maximum hours," said David Bradley Olsen, an attorney for PCAs and agencies that are fighting against the cut.