September 04, 2015
State News for September 2015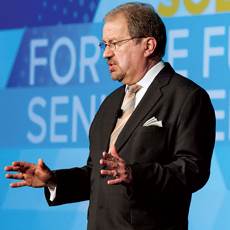 LeadingAge PA president and CEO Ron Barth
Midwest
Racial differences in care
MINNESOTA — Differences in the quality of life between white and minority nursing home residents are emerging as more people of color move into long-term care, a new study has found.
Researchers from the University of Minnesota's School of Public Health said one of the biggest factors in differences in care quality between white and minority residents is different health needs. Minority residents are an average of 13 years younger than white residents, and have a higher prevalence of mental illness.
Payment and staffing differences also impacted resident quality of life. The study found that nursing homes with a high proportion of Medicaid-only residents might have fewer resources to provide adequate staffing.
Northeast
State works to avoid strike
CONNECTICUT — Gov. Dannel Malloy (D) was working with nursing home union officials at press time on a funding arrangement in order to avoid a strike at unionized nursing homes across the state.
Office of Policy and Management Secretary Ben Barnes told the Associated Press that state officials have been in private meetings with union officials to discuss ways to fairly distribute $26 million in state and federal funds to nursing homes over the next two years.
A budget bill created by state Democratic leaders came under fire for allocating an extra $9 million in funds to unionized homes, due to expiring labor contacts. Malloy's administration and federal authorities later confirmed the money needed to be funded equally to union and non-union nursing homes.
Sunrise can be liable: judge
NEW JERSEY — Sunrise Senior Living Inc. will face trial on whether it can be held liable for the alleged negligence of its subsidiary.
In late July, a New Jersey judge denied Sunrise's request for summary judgment. The nursing home operator had claimed that as the parent company of Sunrise Senior Living Services Inc., it couldn't be held liable for any alleged negligence.
The case stems from a lawsuit against Sunrise, SSLS and the Sunrise-operated Brighton Gardens nursing facility by the son of a deceased resident. Nancy Gimenez-Watson choked to death on her food while living at Brighton Gardens. Her son, David Watson, alleges her death was caused by Brighton's failure to follow protocols regarding choking and evaluation of residents' medical conditions.
Care vehicles get green light
RHODE ISLAND — Gov. Gina Raimondo (D) signed a bill in July that would expand the definition of public motor vehicles to include vehicles used by nursing homes, assisted living facilities and home care providers.
The bill will allow facilities to use public-utility vehicles to transport seniors to appointments without having to be regulated, or pay the minimum service requirements that non-public, "for-hire" vehicles like taxis typically have to pay.
Plains/mountains
SNFs, university partner
KANSAS — Some Kansas nursing students will be ready to tackle long-term care, thanks to a new pilot program between nursing homes and Washburn University's School of Nursing.
The program places nursing students in nursing homes to teach them about quality improvement practices. Once the students finish their bachelor's of nursing program, the goal is that they'll have a "working knowledge" of how to spot areas where improvement is needed.
The program is run in partnership with the Kansas Foundation for Medical Care. The first two facilities participating are Topeka Presbyterian Manor and McCrite Plaza Health Center.
New home for native elders
NEBRASKA — A new $16.5 million nursing home is being built by the Oglala Sioux Tribe.
According to the Oglala Sioux Lakota Nursing Home Board, the tribe's elders are currently scattered across the plains and the Midwest.
Native American Health Management will operate the home. It estimates the new facility could create up to 100 jobs on the reservation. n