June 05, 2015
State News for June 2015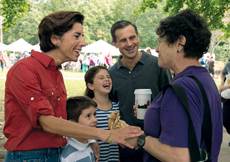 Gov. Gina Raimondo, (far left), is pushing to overhaul nursing home reimbursement in her state.
NORTHEAST
Rhode Island eyes $180 million Medicaid cut and raise in bed tax
Rhode Island Gov. Gina Raimondo (D) wants to reduce nursing home reimbursement rates by 3% and raise providers' bed tax ceiling by 0.5%. But she also hopes to sweeten the deal with an ambitious offer to earn lost funding back if providers make substantial efficiency and quality improvements.
Raimondo's sweeping budget plans, which were being hammered out by a working group of industry representatives and lawmakers at press time, would slash the state's Medicaid spend by $180 million in fiscal 2016 — nearly half of which would come from these and other aggressive spending measures. Nursing home rate cuts would save the state about $18 million a year; hospitals would have their Medicaid rates cut 5% to save $31 million. An additional $6 million in nursing home cuts would result from value-based purchasing initiatives.
Overall, lost revenue for nursing home care provided by the state's 84 Medicare-certified nursing centers would total approximately $24 million, according to the Rhode Island Health Care Association.
Other savings would come from stepped-up Medicaid fraud prevention efforts, cuts to programs that provide coordinated care management of people with severe mental illness, and home health stabilization for people with complex behavioral or medical conditions, according to the Providence Journal. Nursing homes also would lose their adjustment for inflation, which is set to take effect in October.
SOUTHEAST
Rush for bed permits
FLORIDA — Since its 14-year nursing home construction moratorium was lifted last year, the state has been playing a lot of catch-up, recently making room for 500 new nursing home beds.
At press time, 28 companies had filed letters of intent to apply for those bed permits, Shelisha Coleman, a spokeswoman for the Agency for Health Care Administration, told McKnight's. Need projections for a second batching cycle for 2015 are expected to be released in October, she added.
The latest new bed availability comes after the agency approved permits to build 22 new skilled nursing facilities across the state. The permits will reportedly allow for a number of expansion projects, adding 2,600 beds at 11 facilities.
Association CEO sought
GEORGIA — A search was underway to replace the CEO of the state's most powerful nursing home lobby, who announced in mid-April he was vacating his post May 1.
In a public statement announcing Jon Howell's resignation, the Georgia Health Care Association said his decision was made to "preserve unity." Political machinations at the highest level in Atlanta were reportedly beginning to cause tension among providers. Howell had spoken out in favor of lesser funding from the state and spreading it to more than just a small group of providers.
As a backdrop to Howell's unexpected resignation, Gov. Nathan Deal (R) earlier proposed a $27 million rate hike that would have benefitted a small number of nursing homes, some of which are owned by a major Deal contributor. The hike was tabled by the Department of Community Health board after board members and Atlanta Journal-Constitution reporters raised questions.
Whatever issues the state's nursing homes have with Howell or Deal, consumers seem to be happy with the level of care they're providing. According to a study conducted by National Research Corporation, 90% of families surveyed rated the Georgia nursing home where relatives were residents as either excellent or good in 2014.
Convict: Evidence destroyed
NORTH CAROLINA — A man convicted of killing eight people at a Carthage nursing home in 2009 is claiming evidence that could have invalidated his conviction was destroyed. He is seeking $60 million in compensatory and punitive damages for injuries he says he sustained after being shot by police.
Robert Stewart revealed his allegations in a letter to the Fayetteville Observer. He filed a federal lawsuit against the Moore County Sheriff's Office and a local hospital, which he claims destroyed his blood and urine samples. Stewart's lawyers argued during the trial that levels of prescription medicines he had ingested before the killings could have proved he was not legally responsible, the newspaper reported.
Stewart was sentenced to at least 146 years in prison after jurors convicted him of eight counts of second-degree murder and seven other charges in a shooting rampage at Pinelake Health & Rehabilitation Center.
Some of Stewart's most startling allegations were leveled at the hospital, which he claims refused to treat a wound he incurred from a police officer's bullet that ended the rampage, the newspaper reported. Among the damages he claims to have suffered include back spasms, migraine headaches, nerve damage, insomnia and anxiety.
SOUTH
Group fights managed care
LOUISIANA — The state's nursing homes are digging their heels in on Gov. Bobby Jindal's (R) efforts to privatize Medicaid, questioning the need for re-slicing the long-term care pie in an environment that's already been battered into being economical and efficient.
Jindal has generally succeeded in his long-range plans to privatize the program in his state, but providers are planning to lobby heavily against the governor's third and final effort — a request for proposal campaign aimed at attracting private companies to bid for the state's business, currently valued at $2.1 billion. The state already reportedly has private concerns under contract to handle the medical and behavioral health components of the state's $8 billion Medicaid program.
About 72,000 state residents, many of whom are developmentally disabled and elderly, are currently enrolled in the Medicaid program. Nearly 40 states are in various completion phases of transitioning to privatized Medicaid managed care systems.
EAST
Maggot case moves forward
PENNSYLVANIA — A lawsuit filed by relatives of a deceased nursing home resident found to have maggot-infested scalp lesions could hinge on an alternative dispute resolution.
Attorneys for the operator of Golden LivingCenter-Murrysville asked to have the suit dismissed and moved to federal court. Sarah J. Carroll Wood sued GGNSC Murrysville after her 94-year-old mother, Francis Carroll, died in February 2013. Wood alleges that her mother, who was being treated for skin cancer on her scalp, became infested with maggots. Wood says her mother contracted the maggots because she was exposed to contaminants in hallways and dining rooms.
Golden Living attorneys said Carroll signed an ADR that acknowledged she was surrendering her constitutional right to have disputes decided in a court of law by a judge or jury.
WEST
Standoff ends peacefully
CALIFORNIA — A parolee with prior narcotics arrests surrendered to police on April 4 after a tense standoff inside part of a Chula Visa nursing home.
Brian Phillips, 30, was allegedly under the influence of drugs when he went on a knife attack against a resident and nurse at the Fredericka Manor, a Fox News affiliate reported. Phillips then reportedly held the two hostages until surrendering. No one was hurt. Phillips was booked on seven charges, including robbery.