January 04, 2016
State News for January 2016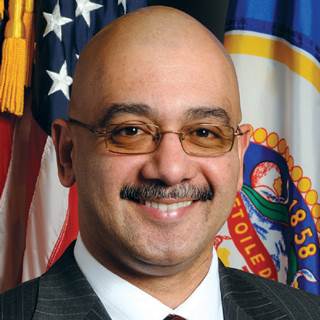 Gil Acevedo
Midwest
Suspicious scores force hundreds to retake aide test
MINNESOTA — Nearly 600 nursing assistants will be required to retake a certification test due to "suspicious" patterns in the results.
An unusually high number of people who took the certification test at two Inver Hills Community College sites received perfect scores on the written and practical portions of the exam, Minnesota Department of Health Assistant Commissioner Gil Acevedo told the KSTP. The "potential improprieties" will force 569 people who took the test between May 1, 2014, and Oct. 16, 2015, to take it again.
Officials from Inver Grove Hils Community College said they are being "abundantly cautious" with the retesting, according to KSTP.
Nursing assistants affected by the testing recall — many of whom have already gone to work in skilled nursing facilities — will have until March 31, 2016, to retake the test but may continue to work until then.
"Since nursing assistants must be supervised and receive specialized training after hiring and prior to working with patients, there is a relatively low risk to patients," Acevedo said. "Regardless, it is important to re-establish the credentials of these nursing assistants as quickly as possible without causing an undue disruption for workers, employers, or patients."
Those who do not pass the retesting will be ineligible to work in federally certified nursing homes, MDH noted.
Plains
SNFs wary of Medicaid fix
KANSAS — Kansas long-term care organizations say proposed changes to the Medicaid rebasing process aren't ideal but are needed if it helps resolve issues stemming from the state's switch to privatized managed care.
The changes, which went to review by a legislative committee in November, would reduce the number of times per year the reimbursement rates for KanCare, the state's Medicaid program, are calculated. Currently, the rates are rebased four times a year; under the proposed regulation it would drop to two.
The state's long-term care organizations, including LeadingAge Kansas and the Kansas Health Care Association, told the Kansas Health Institute News Service the changes weren't "a home run, great solution," but many providers were willing to accept them for the chance that they'll solve billing issues that developed when private insurance companies took over the Medicaid program in 2013.
Instead of reducing the number of a times each year the KanCare rates are recalculated, LeadingAge Kansas president and CEO Debra Zehr said a more ideal solution would be for the state to fix deficiencies with the quarterly rate changes.
Northeast
Background checks start
CONNECTICUT — The state has launched a new web-based background check program for nursing home and other long-term care employees.
Previously, individual healthcare providers would have to conduct their own basic background checks, using websites such as state sex offender registries and Connecticut's nurse's aide registry.
The state legislature voted in 2011 to approve a more comprehensive background check program.
The program helps nursing homes identify whether a job applicant has received a disqualifying criminal conviction, or committed patient abuse or neglect, that would make him or her unfit for direct patient care.
Worker wins overtime case
PENNSYLVANIA — A healthcare worker was within her rights to file a complaint against her employer after she was fired for not working mandatory overtime, the state Superior Court ruled in November.
Brandy Roman was employed as a direct care worker at McGuire Memorial Home, a care facility for people with mental disabilities.
McGuire has a mandatory overtime policy, which Roman violated four times in 2011 by refusing to extend her hours. She was fired and sued McGuire shortly afterward.
Roman was awarded $120,000 and given back her former position in the initial court ruling, which McGuire appealed. The Superior Court ruled in favor of Roman, stating the lower court had jurisdiction to grant her relief and her old position back.
Transportation woes
NEW YORK — Nursing homes in Western New York are blaming their high employee turnover rate on lack of transportation in the area.
1199 SEIU Vice President Todd Hobler told WGRZ that facilities in suburban and rural areas — and far from bus routes — pose a problem for workers without cars.
Regional officials, including Clarence town supervisor David Hartzell, have urged transportation authorities to improve routes in rural and suburban areas.
"We want to make it as easy as possible for those workers to get to work," Hartzell said.
'Snitches get stitches'
NEW JERSEY — A skilled nursing facility in Voorhees is facing backlash after it allegedly fired a nurse who raised concerns over reported abuse at the facility.
Nikki Thompson, a licensed practical nurse at the Voorhees Center, said she was informed of photos showing a hospice patient tied to a wheelchair with a bed sheet after she had fallen out earlier in the day.
The facility was given an Immediate Jeopardy citation for restraining the resident, according to television station FOX 29.
After bringing her concerns to administrators, Thompson received an anonymous note reading "snitches get stitches." She was then fired from the facility, a move she says is the direct result of her concerns over the photos.
Thompson has sued Voorhees Center and its owner, Genesis HealthCare.
Midwest
Nurse killed at facility
OHIO — A Canton nursing home was left reeling in December after one of its nurses was killed in the facility's parking lot by her ex-husband.
Zeljka Sekulic, 37, was shot outside of Astoria Skilled Nursing and Rehabilitation on Dec. 9 by her ex-husband, Dragan Sekulic, 38. He was arrested and charged with aggravated murder the same day.
There was no indication that the murder was linked to the nursing home, but the facility was immediately locked down following reports of gunfire.
In a video press conference, Astoria co-owner Michael Slyk, choking up at times, said staff and residents were "heartbroken. We have lost a member of our family."
South
Fraud task force formed
WEST VIRGINIA — State and federal officials have formed a new data-driven task force to tackle healthcare fraud.
The task force will use statistical analysis to identify potentially fraudulent billing patterns, and to target waste and abuse more efficiently, officials said when the group was announced in November.
Members of the multi-jurisdictional group include the United States Department of Health and Human Services, the Drug Enforcement Agency, the West Virginia Medicaid Fraud Control Unit, and the Federal Bureau of Investigation.
"The fraud detection tools that we're using allow us to identify sophisticated schemes that may have escaped scrutiny in the past," said U.S. Attorney William Ihlenfeld at a press conference announcing the group's formation.
Delay sought for closure
ALABAMA — State officials received a shock in December when residents of a Golden Living Centers facility in Trussville were forced to move out.
The facility lost its Medicare and Medicaid provider agreement in December following a number of deficiencies, staffing issues and a reported sexual assault. The facility told residents it would have to close its doors and have all residents moved out of the building by January 7, the Trussville Tribune reported.
State Rep. Danny Garret (R) said he was working with state agencies to get an extension on the move-out deadline, perhaps 30 to 60 days.