February 04, 2016
State News for February 2016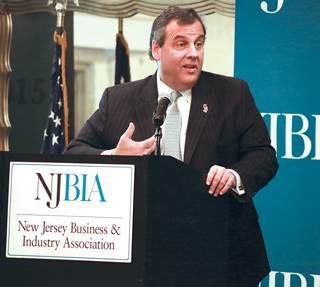 New Jersey providers hope Gov. Chris Christie (R) will veto a staffing bill on certified nursing assistants.
Northeast
Staffing requirements bill draws provider concern
NEW JERSEY — New Jersey provider organizations are raising concerns over a state bill that would create minimum staffing requirements for certified nursing assistants.
The bill, which was approved by a state Assembly panel in December, would require nursing homes to have one CNA on duty for every eight residents on the day shift, one for every 10 on the late-day shift, and one for every 16 residents on the overnight shift.
Providers raised concerns about the bill's focus on quantity over quality and its heavy union support.
"It was not a discussion about clinical outcomes and what really goes into safety and positive quality improvements in our state," Health Care Association of New Jersey President and CEO Jon Dolan told McKnight's. "It's very much a labor-related piece of legislation."
The bill was slated for a mid-January vote by the full Assembly as of press time. While the measure was expected to pass, both Dolan and LeadingAge New Jersey President and CEO Michele Kent said they believed Gov. Chris Christie (R) would veto it.
Discharge claims settled
NEW YORK — Nursing home chain Elant Inc. has agreed to pay $600,000 to resolve claims that it delayed the discharges of short-term residents at its facilities.
The company, which operates five facilities in the state, admitted to postponing discharges between 2008 and 2011 without resident consent. Company officials also allegedly limited the number of discharges, and transferred residents with Medicaid coverage to one of its financially struggling facilities.
In a statement to McKnight's, Elant Board of Directors Chairwoman Donna Cornell said the individuals responsible were no longer employed by the company, and processes were put in place to ensure such incidents don't happen again. Elant is headquartered in Goshen, NY.
Bill to boost county facilities
PENNSYLVANIA — A bill currently in the House Appropriations Committee could return millions in funds to county-owned nursing homes.
The measure would roll back a provision that lets the state keep 10% of the Medicaid costs for residents in county-owned nursing homes. Currently, counties pay millions in subsidies to make up the difference, with much of the subsidies going to fund legacy costs, the York Dispatch reports.
While the bill wouldn't eliminate the subsidies entirely, it would redirect about $20 million back into county nursing homes. The measure is sponsored by Rep. Thomas Killion (R).
Midwest
SeniorCare rolls on
WISCONSIN — The state has received federal approval to continue a program that provides prescription drug assistance to seniors.
SeniorCare helps reduce prescription drug costs for close to 60,000 low-income residents age 65 or older each month, according to the Wisconsin Department of Health Services.
The state health department submitted its application for continued approval to the federal authorities in June, citing the program's popularity and success. In 2014, SeniorCare reduced $191 million in drug expenditures to $27 million, which were paid for through state and federal tax dollars, the application said.
The new approval will allow the program to continue unchanged through December 31, 2018.
South
Worker charged in I.D. theft
TENNESSEE — A nursing home technician has been arrested for allegedly stealing a resident's identity via credit card scams.
Alicia Brooks was charged with identity theft and fraudulent use of a credit card after she allegedly opened credit cards in the name of a resident she cared for at Vancor Manor in Goodlettesville, TN. Officials said Brooks racked up more than $2,500 on the cards at stores that included Kmart, and had added her name to the man's Sears credit card.
Brooks was already on probation for allegedly stealing the credit card of a resident at the assisted living facility where she used to work, and for allegedly using it to buy gas and groceries several days after the woman died.
As a result of her latest arrest, Brooks' previous case has been reopened.
Managed care 'carve out'
ARKANSAS — A Medicaid managed care "carve out" for long-term care providers is among the proposals recommended by a state legislative task force in December.
The proposed deal, struck between long-term care organizations and Gov. Asa Hutchinson (R), would put providers on the line for changes that would match the projected savings of putting long-term care populations into managed care, the Arkansas Times reports. That amount is predicted to total more than $200 million over five years.
The state's long-term care industry makes up the Medicaid program's largest spending category. Two additional high-cost populations, those with developmental disabilities and behavioral health issues, are still likely to be recommended by the task force for managed care.