July 01, 2014
Special juice reduces UTIs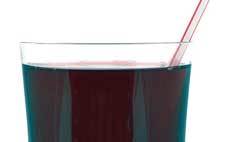 A juice reduces UTI rates by up to 55%, say Norwegian researchers.
Drinking black chokeberry juice may reduce the rate of urinary tract infections among nursing home residents, according to findings published in Nutrition Research in June.
About 200 residents from six nursing homes were divided into two groups. Group A drank the juice for the first three months and a placebo drink in the next three months; Group B did opposite.
Group A drank almost twice as much chokeberry juice, which contains a high content of
phenolics.
The findings showed a significantly reduced UTI rate for both groups: 55% for Group A and 38% for Group B.