August 28, 2017
SNF turns therapy gym into makeshift bedroom to house residents evacuated by Hurricane Harvey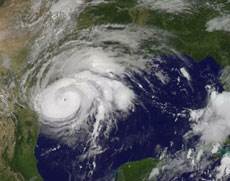 The evacuated residents were expected to return to their home facility near Corpus Christi on Monday. Source: NASA
A Texas skilled nursing facility jumped from 80 beds to 150 late last week as it welcomed residents from a sister facility evacuating ahead of Hurricane Harvey.
Ninety residents from Gulf Point Plaza in Rockport, TX, near Corpus Christi, were transported roughly 200 miles north on Thursday night to Park Manor Bee Cave, in Bee Cave, TX, just outside of Austin. The residents were moved far north so hospitals in the southern part of the state could have beds available for patients who may come in during the hurricane.
Park Manor transformed its therapy gym into a space for 14 residents to sleep while they waited out the storm; the rest of the residents would be moved into rooms after staff helped current residents double up.
Director of nursing Johnielle Johnson told Austin's KXAN that Park Manor was taking measures to make sure that "we don't have any break in care from where they came from to here."
Administrator Cory Hawkins told KXAN that the facilities "had a plan that we were able to execute to get those folks out of harm's way and weather the storm up here in beautiful Austin."
More than 100 employees of Park Manor will work overtime through the weekend to care for the temporary residents. They'll likely return home to Gulf Point on Monday, barring any hurricane damage to the facility.
"Life is unpredictable, but what is predictable is how we treat others," Johnson said.