February 24, 2016
SNF employee pleads not guilty to murder, 'flips off' resident's family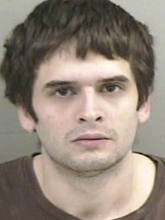 Claude Shinall
A former nursing home employee pleaded not guilty Tuesday to murdering a resident — but not before apparently aiming a crude hand gesture at the resident's family.
Claude Shinall, 25, was charged last week with six counts of murder and one count of involuntary manslaughter in the death of 79-year-old Gene Farnsworth. Shinall allegedly beat and choked Farnsworth Marigold Rehabilitation and Health Care Center in Galesburg, IL, after Farnsworth repeatedly fell out of his bed last October.
As Shinall waved to friends and family as he entered the hearing, he also gave the middle finger to an area where Farnsworth's family was sitting and made the obscene gesture to the the courtroom's camera at least twice, as shown in this local news report video.
Shinall is due in court on March 28 for a pretrial hearing and could stand trial as early as April 18.