July 24, 2008
Second economic stimulus package with Medicaid funding under discussion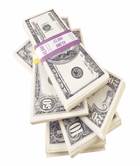 Automatic 2% Medicare cuts begin

Rep. John Dingell (D-MI) this week touted a second possible stimulus package that would contain a temporary increase in Medicaid spending.

The congressman told a meeting of the Health Subcommittee that the package could pass by the end of the summer. A bill he is co-sponsoring (H.R. 5268) would include an increase of 2.95% to states' Federal Medical Assistance Percentage (FMAP) and 5.9% to U.S. territories' FMAP from April 1, 2008, to June 30, 2009. Federal Medicaid spending under this bill would increase from $10 billion to $15 billion. The president earlier this year signed off on a economic stimulus package that offered $50 billion in incentives to businesses, but it did not contain a boost to states' FMAP.

Some congressmen are not as optimistic that a stimulus bill could reach the floor by September or become law. House Republicans have said the bill is politically motivated and that its passage will depend largely on the attitude of the National Governors Association, which has yet to take a position on the matter.