July 08, 2009
Sebelius praises CLASS Act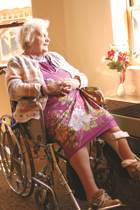 Use of physical restraints decreases in nursing facilities, but anti-anxiety drug use grows, industr

The Senate proposal to create a national long-term care disability insurance program Tuesday gained the key support of President Obama and Health and Human Services Secretary Kathleen Sebelius.

In a letter sent to ailing Senate Committee on Health, Education, Labor and Pensions (HELP) Chairman Ted Kennedy (D-MA), Sebelius called the Community Living Assistance Services and Supports (CLASS) Act "innovative." She noted that passage of the measure would help ensure availability of long-term care services and supports for individuals and families alike. Under the Kennedy plan, workers would pay an average of a $65-per-month premium. That would make them eligible for up to $50 per day in long-term care and disability insurance benefits in the event of a disability. This money would help pay for home- and community-based services or nursing home care before Medicaid payments kick in.

The American Association of Homes and Services for the Aging was quick to reiterate its support for the insurance plan following the president's endorsement. In applauding the efforts of Kennedy, Sebelius and Obama, AAHSA President and CEO Larry Minnix pointed out that, "long-term services and supports is the health care issue nobody wants to deal with and everybody will face."