February 08, 2011
Sebelius defends CLASS Act, admits changes to be made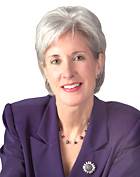 Department of Health and Human Services Secretary Kathleen Sebelius
Health and Human Services Secretary Kathleen Sebelius defended the CLASS Act, the Affordable Care Act's long-term care insurance program, on Monday in remarks at a Kaiser Family Foundation event.
The Community Living Assistance Services and Support program, or CLASS Act, has been one of the targets in the Republicans' efforts to repeal healthcare reform. The CLASS program is an opt-out employment benefit that will help finance long-term care for workers who become disabled.
Sebelius refuted reports that the program is paid for by tax dollars, and asserted it would be paid for through premiums. She also emphasized that the program must go through some regulatory changes to ensure fiscal solvency. Changes include providing a range of payments rather than a single $50 daily payment indexed to inflation; and getting rid of loopholes that let beneficiaries receive payments even if they only sporadically pay premiums. Sebelius noted that the program strives to keep disabled people out of nursing homes and provides better options.
The National Council on Aging applauded her defense of the program. "Most seniors in need now have no choice but to spend down into poverty and be placed in a nursing home if they should need help," NCOA President and CEO Jim Firman said in a statement.