June 01, 2013
Roommates getting in the groove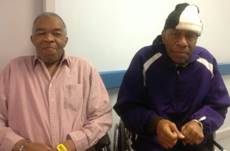 John Lott (left) and John Griggs
If you hear jazz while you're at the Newark Extended Care Facility, it's probably coming from the room shared by John Griggs and John Lott.
The men didn't hit it off right away, says Beth Zoumas, executive marketing manager at the 430-bed skilled nursing and rehab center in New Jersey. But it makes sense that music melted the ice. Griggs, 73, played percussion for three decades with James Brown and still talks about playing at 1974's "Rumble in the Jungle" fight between George Foreman and Muhammad Ali in Africa. Lott, 70, was a member of The Escorts, a 1970s group best known for "Let's Make Love (At Home Sometime)."
Nowadays, Lott can still sing all the way through classic Escorts tracks, Griggs impresses at a weekly therapy drum circle and the two chill out to jazz station WBGO.
It's coincidence they became roommates, Zoumas says. And it's coincidence that Justino Adorno, a former drummer with Tito Puente, is also a Newark Extended Care resident.
Adorno, 55, contributes his masterful skills to the drum circle, and he calls Griggs his "teacher," according to Zoumas.
Newark Extended Care may have become the funkiest nursing home west of the Hudson by chance, but if other musicians want to jam, there are enough instruments. Zoumas says the nursing home recently received donated instruments from the project Strings2Strum.
—Tim Mullaney