November 01, 2013
Residents' artwork goes viral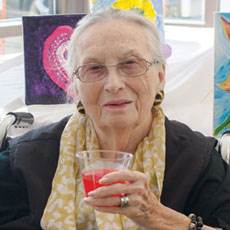 Resident Martha Cooner enjoys a bright drink and bright art.
Smile. That's the title of Mae Cleveland's colorful painting that won Best Overall Artwork in Signature HealthCARE's recent "Reflect N Us" competition.
The award must have brought a smile to Cleveland's face. But the event was uplifting for roughly 600 people from Signature communities who submitted entries.
Doing company-wide events "creates energy," says Joe Steier, president and CEO of Signature. It also draws public attention, which reached "viral" proportions, according to Steier. The contest generated more than 150,000 website hits and nearly 8,000 online votes. Having a large audience empowered residents, Steier observes. At about $200 per facility, there was "minimal" cost for supplies, says Linda Howe, vice president of recruitment/staff relations. An artist herself, Howe notes that residents were able to work in many different mediums, including sculpture and jewelry.
Signature holiday cards will feature art from a separate contest, Howe says. And winning Reflect N Us artwork will be "mass produced" on coffee mugs, lithographs and other items, according to Steier.
The biggest vote-getters were not the only winners in this event. Lisa Shaheen, who has multiple sclerosis, learned to paint by holding the brush in her mouth. She and others are "defying suffering" through art, says Dianne Timmering, Signature's vice president of spirituality.