November 01, 2010
Republicans to focus on repealing healthcare reform after today's midterm elections, Minnix predicts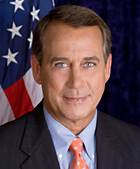 House Speaker John Boehner (R-OH)
Republicans, poised to take over the U.S. House after the midterm elections today, likely will introduce legislation to repeal the healthcare reform law. That's the opinion of Larry Minnix, president and CEO of the American Association of Homes and Services for the Aging, among others.
In comments to members of the media during AAHSA's annual meeting in Los Angeles on Monday, Minnix predicted such bills would pass in the House but not in the Senate, which is likely to remain under Democrats' control. Also, President Obama would be very likely to veto any such legislation, Minnix added.
Among likely items that Republicans would try to strip out of the bill is the CLASS Act, a measure that creates a long-term care disability trust. But Minnix believes that anti-reform advocates quickly would learn that it would not be popular to remove most measures, most of which provide aid to vulnerable populations.
"They're going to figure out there's not much about it [healthcare reform] they can change," Minnix predicted.
Earlier, Minnix talked about the importance of leadership to a member-filled auditorium during a general session at the Los Angeles Convention Center. He provided examples of facilities with inspiring caregiving efforts. This year's meeting theme is "Who decides?"
"It's the basic underlying question around aging issues that must be resolved," he said.
The group's new name, LeadingAge, which will take effect Jan. 25, 2011, represents the spirit of AAHSA, Minnix said. He talked about a resident who wanted to dance a waltz before she died. She got her wish.
"We all deserve a bucket list, a last waltz, and organizations like yours care enough to make that happen. That is LeadingAge," he said.
Win Marshall, AAHSA's board chairman, said that even though the organization has been named AAHSA, "we had always, always been LeadingAge."
Marshall's message to the group was to expand advocacy efforts in their organizations. Also in the general session Monday, Marshall and Minnix honored Susan Weiss, senior vice president of advocacy for AAHSA. She is retiring after 25 years at the organization. Minnix called her an "angel for advocacy."
The conference is expected to have attracted 8,000 to 9,000 attendees and vendors by the time it ends Wednesday. That is slightly fewer than last year's total in Chicago, Minnix said.