May 06, 2017
Reader Poll: How do you handle conflict between staff members?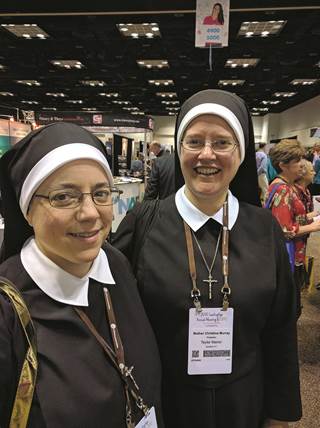 Reader Poll: How do you handle conflict between staff members?
"We get out the ruler. We're kidding! We try to get them to talk to each other and listen to each other. You have to meet them where they are. The last thing they want us to do is bring God into it, although some of them experience God through us."
— Mother Christina Murray, President, (left) and Sister Mary Faustina, Administrator, Taylor Manor, Versailles, KY
"We acknowledge that the dispute exists and find key strategies. We want to find common ground."
— Maureen Beith, President and CEO, Mt. San Antonio Gardens, Pasadena, CA
"I encourage them to have a conversation between themselves. Then have a conversation with me. I ask them to repeat back what they said. I tell them we need to understand where the other person is coming from. I will step in if I need to, but I hope they do it more on their own."
— Jane E. Gibson, RN, MSN, Director of Health Services, Asbury Springhill, Erie, PA
"We talk about it. Hopefully it allows them to have a resolution. If not, there are requirements that they have to adhere to, including a code of conduct."
— Shelly M. Griffith, CPA, NHA, CEO, Eben Ezer Lutheran Care Center, Brush, CO
"We find out what happened from each person's perspective. If it's serious, I have them write a written statement. If one person insulted someone, we tell them to think about the residents. We try to bring them to a higher place."
— Theresa Dauz, RN, BSN, Stoddard Baptist Nursing Home, Washington, D.C.
"We use a model called 'Crucial Conversations' from the book. We have a conversation based on respect."
— Lucki Klebar, Director of Sales and Marketing, St. John's on the Lake, Milwaukee
"Handling conflict between team members is always best to address immediately, before it festers into a larger issue. Listening to determine what the real root of the issue is allows a supervisor to address the actual problem."
— Wendell Short, VP Planning & Project Management, Baptist Village Communities, Oklahoma City
"The goal is to create a supportive environment where staff members feel they are valued. Should conflict(s) arise, it is important to keep the following in mind: Confidentiality, Listening, Timeliness, Empathy, Respect & Professionalism, Resolution & Conclusion. Remember that there is not a one-size-fits-all approach."
— Stacie Caplan, Chief Human Resources Officer, Gurwin Jewish, Commack, NY
"It's about figuring out, at an individual level, what's working and what's not. Parker is great about communication. If there's a problem, it's pushed through every level. "
— Judy Collett-Miller, Director of Planning and Administration, Francis E. Parker Memorial Home, Piscataway, NJ