April 03, 2008
Racial disparity apparent in long-term care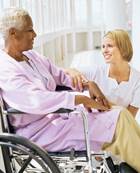 Racial disparity apparent in long-term care
A "resegregation of sorts" is occurring in the world of eldercare, according to a news report. Elderly black people increasingly are likely to be in nursing homes while older whites more often reside in assisted living facilities.
As of 2004, almost 1 in 20 elderly black people lived in nursing homes, compared with nearly 1 in 30 whites, according to the National Center for Health Statistics, a story in the Orlando Sentinel reported. This marks a shift from the 1970s when large, extended black families would care for older members and whites were twice as likely as blacks to be in nursing homes.
Changes in the black community have resulted in children settling farther from home. Nursing homes sometimes are the only option for frail parents. Financial disparities are also a major factor, according to the report. Many blacks cannot afford assisted living. Because they are statistically less likely to have health insurance or retirement savings, they must therefore rely on Medicaid-funded long-term care.