April 16, 2015
Providers testify against post-acute bundled pay bill at hearing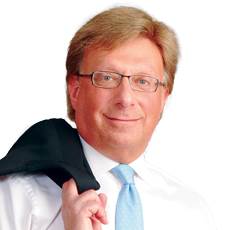 Leonard Russ, board chairman, American Health Care Association
A top nursing home advocate on Thursday urged killing a bill calling for the bundling of Medicare payments for post-acute care services.
The Bundling and Coordinating Post-Acute Care (BACPAC) Act of 2015 would "introduce a new type of entity between the payer, patients and the provider that would create strong incentives to siphon away valuable resources that could otherwise be used in direct patient care," said Leonard Russ, the chairman of the board of governors for the American Health Care Association.
The bill, which is also opposed by the hospital lobby, would reportedly require private sector "coordinators" to "guide" patients after hospital discharge.
Russ, who is also co-owner of Aaron Manor Nursing & Rehabilitation Center near Rochester, NY, was among witnesses testifying before the House Energy and Commerce Committee's Subcommittee on Health. The panel is exploring the current status of Medicare post-acute care to determine opportunities to improve delivery and access to these services.
Among other hearing highlights:
Both the American Medical Rehabilitation Providers Association and Coalition to Preserve Rehabilitation agreed on a number of points relating to the bundling legislation, including designation of a physician as the primary person responsible for delivering post-acute care services and exclusion of prosthetics, orthotics and custom durable medical equipment from bundling.
AMRPA testified it also supports the exemption of certain vulnerable patients from first phase of bundling assurances that quality measures be mandated in any post-acute care bundled payment system to assess whether patients have proper access to necessary care.
CPR also testified it supports the exclusion of outpatient physical therapy services and outpatient occupational therapy services from bundling in BACPAC, and it urged Congress to create financial disincentives preventing clinically inappropriate diversion of patients to less intensive settings.
Mark E. Miller, executive director of the Medicare Payment Advisory Commission, told lawmakers that Medicare should move toward a unified payment system for post-acute care and "away from fee-for-service payment and toward integrated payment and delivery systems that are focused on the patient's needs, coordinating care, and ensuring positive outcomes."
Miller said MPAC's works with on Medicare Advantage plans, accountable care organizations and bundled payments "are examples of reforms that center payments on the beneficiary or episode of care rather than on specific services furnished in particular settings."