September 01, 2010
Providers see FMAP measure as welcome but temporary fix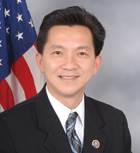 Rep. Anh "Joseph" Cao (R-LA)

After a hard-fought battle in Congress, states finally received a much-sought extension of federal Medicaid funding.

The package, which Congress passed last month, will extend the increase in the federal medical assistance percentage (FMAP) by 3.2% from January through March, and 1.2% from April to June. The current FMAP increase, which will expire at the end of the year, is 6.2%. The FMAP is the percentage rate used to determine the federal match rate for Medicaid.


The long-term care community hailed the move but also expressed reservations.

"From the perspective of the states and their Medicaid budgets and its impact on the skilled nursing sector, it's a plus without a question," commented Robert Kramer, president of the National Investment Center for the Seniors Housing & Care Industry. "But it's a temporary fix."


The funding comes as governors have been pressured to freeze or cut Medicaid reimbursements. This funding should help alleviate some of this concern. But it's unclear whether states' situations will turn around by next year.

Once the states actually receive the money, governors have to allocate it. While nursing homes' share of the funding is not guaranteed, the FMAP extension places facilities in a stronger position to lobby against cuts, Kramer said.