July 01, 2008
Providers hope to delay therapy caps' full return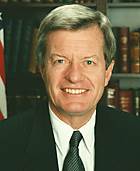 Senate Finance Committee Chairman Max Baucus (D-MT)
The process that exempts most nursing home residents from therapy payment caps was set to expire at the beginning of this month, federal regulators cautioned providers.

Barring the passage of special legislation before July 1, a wide-ranging therapy cap exceptions process would lapse, officials with the Centers for Medicare & Medicaid Services said. That would leave residents open to the full brunt of annual limits of $1,790 for occupational therapy and $1,790 for speech and physical therapy combined.
Compounding the potential woe, therapy performed during the first half of 2008 would count toward the limits, said CMS' Sheila Lambowitz.
"It's kind of dicey right now," said Peter Clendenin, executive vice president of the National Association for the Support of Long-Term Care, a few weeks before the deadline was to hit. "I'm hopeful, but I've stopped giving out odds. It really comes down to the Senate and whether they'll be able to get Medicare legislation passed."
Clendenin said the hope is to achieve an 18-month extension of the exceptions process. At press time, it was still covering about 85% to 90% of nursing home therapy claims, Clendenin said. Ultimately, the goal is to change the entire method of paying therapy claims, he added.
Both Sens. Charles Grassley (R-IA) and Max Baucus (D-MT) introduced bills that would delay the expiration of the process.