May 04, 2016
Providers get new pay model for readmits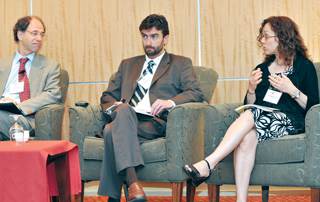 Tim Engelhardt, middle, at a Community Catalyst panel on dual eligibles, oversees an initiative aimed at reducing hospitalizations among SNF residents.
Skilled nursing facilities moving into a new Centers for Medicare & Medicaid Services model will need to reduce avoidable hospitalizations through intensive staff training and new treatments.
The model, part of the agency's "Initiative to Reduce Avoidable Hospitalizations Among Nursing Facility Residents," would boost payments to SNFs that are treating common medical conditions. Physicians would receive more payment when performing comprehensive assessments in SNFs.
That should remove barriers to providing high-quality care in SNFs and also lower hospitalization rates, officials said. The model will start testing this fall and extend four years. Indiana, Missouri and New York are among states with systems participating.
Smarter spending can improve care and management of conditions that often lead to hospitalizations, said Tim Engelhardt, director of the Medicare-Medicaid Coordination Office.