May 04, 2011
Providers being studied for fate of nursing home prospective payment system rates for 2011: Expert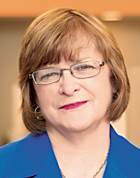 Patricia Boyer, MSN, NHA, RN
Providers worried about a threatened 11.3% cut to Medicare reimbursement rates next year could have their fate in their own hands. That's according to a payment and reimbursement expert who addressed a large audience of long-term care professionals Tuesday during a McKnight's "Super Tuesday" webcast.
Providers increased claims in the Rehab Ultra High payment category to almost 41% during the first quarter of 2011, said Patricia Boyer, president of Boyer and Associates. That's far above the 17% level of five years ago and even the 35% rate of last year, she noted. Federal regulators believe it's a byproduct of providers taking advantage of the revised RUG-IV payment system that went into effect last October. Last week, regulators announced an 11.3% (nearly $4 billion) pay cut could be coming in fiscal 2012 as a result of providers' actions.
Boyer said regulators are studying rehab filing rates for the second quarter of this year to help determine how aggressively they'll pursue funding cuts, if at all. Last week, the Centers for Medicare & Medicaid Services also floated the possibility of increasing reimbursements by a net 1.5%.
"I think a lot of what we are seeing out there are facilities who are putting people into high RUG levels almost as an automatic," Boyer told the webcast audience. "That's one of the dangers we have gotten ourselves into."
In reviewing a critical report from the Office of the Inspector General released in December, she also said providers need to use "grace" periods more judiciously, and not treat everyone the same. In addition, she said that "major" changes could be forthcoming this year regarding the definition and classification of "group" and "concurrent" therapy, also in the wake of the payment system implemented in October.
Tuesday's webcast, "Payment challenges and opportunities," can be heard in its entirety by registering for free at www.mcknights.com/expo2011 and navigating to the appropriate session.