December 01, 2014
Profile: The thrill is far from gone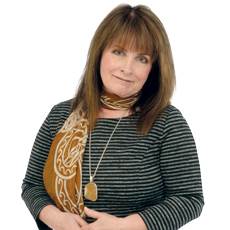 Deborah Green, EVP, Operations and Chief Operating Officer, AHIMA
Growing up in a big family, Deborah Green's tenacious spirit developed out of necessity: "As one of six kids, I was always vying for my parents' attention," says the executive vice president of operations and chief operating officer at the Chicago-based American Health Information Management Association.
Home is also where Green, 63, developed an early interest in the healthcare field. She was raised in El Paso, TX, where her mother served as the local hospital's bookkeeper and, ultimately, its administrator. Green and four of her siblings went on to pursue careers in healthcare.
The work ethic instilled by her parents has served her well in the health information management field, says AHIMA's CEO, Lynne Thomas Gordon.
"Deb has a passion for making a difference," says Gordon, who was also Green's classmate in the executive MBA program at Georgia State University. "She's taken the lead in driving information governance for healthcare and her enthusiasm for this effort is contagious."
Colleague Denise Froemming agrees, noting that Green is a trusted peer who works well with staff at all levels.
"Regardless of deadline or pressure, Deb always delivers," says Froemming, the chief financial officer and EVP of Administration at AHIMA.
Trust plays a critical role in healthcare delivery, so the ability to effectively manage and utilize personal information of all types is essential for the sustainability of any healthcare organization. Helping establish policies, protect information and determine accountability for managing that information will help organizations conduct operations more effectively, Green says.
"I understand the importance of health information when it comes to improving health, healthcare and reducing costs," she says.
A married mother of two, Green says her employees would likely describe her as having high expectations of them, but also as approachable and empathetic. Growing up in a big family also taught her the importance of never taking herself — or life — too seriously.
"My motto is 'Never miss an opportunity for levity,' and I joke and use humor so often it's just second nature to me," Green says. "During meetings or when speaking, I tend to have a relaxed and sometimes irreverent style. But it hasn't gotten me into trouble … yet."
Some also may be surprised that she has an "artsy," creative side, Gordon says, noting that Green is "an amazing photographer." Green says she considers photography as more of an avocation than a hobby; she's stayed involved with it on a serious level since high school.
A self-proclaimed music junkie, Green also loves visiting Chicago icons Blue Chicago and Schubas Tavern for live music, and is a huge Rolling Stones fan.
"They've just managed to stay relevant through so many decades," she says, adding that her love of music is something else her parents passed along to her and her siblings. Green says she used to sing at local bars and civic centers near Atlanta with her brother's band, Doc Roc, when he was going to medical school. Several members of her family are musicians. Many of her most cherished childhood memories are of her dad playing albums on the "Hi-Fi," their high-fidelity stereo system.
In fact, her parents had to implement a no-singing-at-the-table rule after Green or one of her siblings had burst into song too often during mealtimes.
"We're pretty serious about music in my family," she says.
Resume
1976
Graduates with bachelor's degree in health information management from the University of Texas Medical Branch
1978
Joins Tenet Healthcare (formerly AMI) to lead divisional and, ultimately, corporate support services for Health Information Management, Quality Improvement, Utilization Management and Accreditation
1990
Receives executive MBA from Georgia State University
1996
Enters long-term care industry as VP Business Systems for Sava Senior Care (formerly Mariner Post-Acute Network)
2000
Receives AHIMA's National Visionary Award
2002
Hired as CIO for LaVie Care (formerly Centennial Healthcare)
2012
Named EVP, Operations and COO at AHIMA