August 01, 2014
Profile: Respecting his elders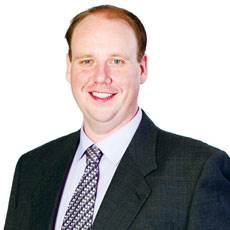 Michael D. Gore, Executive Director, Cabell Health Care Center
Michael D. Gore made great strides professionally this spring, but it also was a season of sadness for the rising long-term care leader. His grandmother died at the age of 87 after spending her last weeks in the Lincoln Nursing & Rehabilitation Center in Hamlin, WV. Gore was the center's executive director at the time.
His grandmother, who taught him respect for the elderly, always inspired him, he says. His grandfather — who worked the family farm until he was 75 — also was an important early influence.
When not on the farm with their grandparents, Gore and his older sister and brother grew up in the town of Logan, WV. His father, a coal miner, was disabled in an accident when Gore was five.
"I think understanding what people go through comes from watching Dad," Gore says. His mother passed on her caring nature and the value in putting other people first, he explains.
Instilled with these values, Gore planned to become a hospital administrator after graduating from Marshall University in 2001.
However, he took a long-term care job and thrived in a setting where "you really get to know the patients."
He earned a master's in business administration from Liberty University in 2006, and he turned around some "buildings that really needed help" before taking the job at Lincoln, he says.
"His leadership strength is that he understands silence is approval. He is not silent and holds his people accountable," says Tammy Jo Painter, LNHA, past president of the West Virginia Health Care Association and current vice president of compliance/operations at AMFM LLC, which manages the Lincoln facility.
His ability to speak up has been sharpened through lifelong involvement in theater, Gore says. He performs in local productions, most recently the musical "Catch Me If You Can." He says acting helped his personality "come out and flourish," giving him confidence to address community groups and build strong relationships with them.
When a chemical spill tainted Lincoln's water supply for 45 days earlier this year, Gore's connections with a local bottler and Laundromat got Lincoln safe water and clean clothes. He also led staff in creative workarounds, like improvised showers using buckets.
Gore's leadership in crisis demonstrates why he has an emerging national profile. He is the current president of the West Virginia chapter of the American College of Health Care Administrators, and he recently was chosen for the American Health Care Association's Future Leaders program.
In July, he became the executive director of the Cabell Health Care Center in Culloden, WV. He lives with his wife of 12 years, Hillary, and their 4-year-old daughter, London, in nearby Milton. The three enjoy trips to Disney World and visiting family.
They may no longer be able to visit Gore's grandmother, but the 38-year-old says he treasures their last months together.
"She always knew me," he says.
Gore is especially inspired by his grandmother's advice to keep connecting with residents.
"She reminded me to hold their hand and talk to them," he says. "She reminded me how precious they are."
Resume
2001
Graduates with a bachelor's of business administration in healthcare management from Marshall University
2005
Completes administrator-in-training at HCR ManorCare's Heartland of Martinsburg
2006
Earns MBA from Liberty University
2007
Starts term on West Virginia Health Care Association Board of Directors
2009
Becomes administrator at Boone Nursing & Rehabilitation Center
2010
Takes executive director job at Lincoln Nursing & Rehabilitation Center; begins as president of the American College of Health Care Administrators West Virginia chapter
2014
Selected to AHCA Future Leaders of Long-Term Care program; named executive director at Cabell Health Care Center