March 04, 2015
Profile: Barbara Gay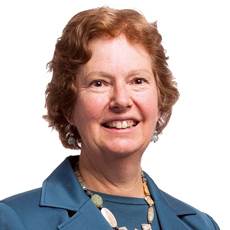 Proficient policy pundit
Growing up in a quintessential New England town with extended family all around, Barbara Gay always appreciated the rich relationships she had with older adults.
But she says landing a post-law school job in constituent services opened her eyes to the sorts of health and financial burdens so many people face later in life.
"People contacted us about all kinds of personal problems, people who were really struggling to survive," recalls Gay, now in her 21st year as director of governmental affairs for LeadingAge.
Many of the calls Gay fielded as a caseworker for Rep. Matthew Rinaldo (R-NJ) came from seniors whose retirement savings fell short during the 1970s inflation crisis. Others needed help getting loved ones into long-term care settings without draining a lifetime of savings.
The story was familiar even then. Though Gay's grandmother had spent years in labor-intensive jobs, it was only with the support of younger family members that she remained in her old Victorian house despite declining health.
Rinaldo left Congress after 20 years, and Gay found herself at a crossroads. She'd taken a short-term job with another representative when a life crisis put her on a new career path.
Gay's mother, Jean, was a stay-at-home mom turned devoted crossing guard. When she became terminally ill with lung cancer, Gay hustled to Massachusetts during Thanksgiving break. She remained at her mother's side until her death two months later.
The family, which includes a brother who is now a physician, depended on in-home hospice care and their small-town connection with a public health nurse for advice on everything from adjusting the hospital bed in the living room to administering morphine.
"It was a very meaningful experience," says Gay. "We had the conversations you want to have."
In 1994, Gay embarked on her new role as an advocate for non-profits serving seniors. Her personal interactions have given her a great appreciation for the industry.
Colleagues say the 62-year-old's ability to recognize good ideas, understand legislative and policy changes and share them in insightful ways make her a critical asset for the organization and its grassroots membership.
Marsha Greenfield,
LeadingAge's vice president of legislative affairs, has worked closely with Gay since 2000. She says the "brilliant" Gay is one of the organization's most sought-after speakers.
"She can present the most complicated [Capitol] Hill stuff in an easy-to-understand, funny way," says Greenfield. "She has a wonderful ability to synthesize information."
In addition to writing weekly member updates and speaking, Gay has increased her work travel schedule in recent years. An owner of two cats (Mouse and Blackberry), she also has taken personal trips to Alaska, Italy, Mexico, Vietnam and Cambodia. She calls performing in China with alumni from her glee club a highlight.
She's involved in the music ministry at her Franconia, VA, church, where she describes learning hand bells with trademark humor: "Know your left hand from your right and be able to count to six …"
Gay also was recently elected to the church board. Not surprisingly, she says she plans to use the role to advocate for those less fortunate, including newly arrived immigrants and seniors on fixed incomes.
– Kimberly Marselas
Resume
1974
Graduates from Mount Holyoke College
1977
Receives law degree from George Washington University
1977
Begins career as
assistant caseworker/legislative assistant to Rep. Rinaldo (R-NJ)
1984
Becomes legislative director for Rinaldo, providing legislative analysis, writing position papers and handling constituent inquiries on issues like Social Security.
1994
Hired as director of governmental affairs for
LeadingAge, representing more than 6,000 non-profits providing health, housing and community services for seniors.
2013
Began serving as LeadingAge liaison to state associations in Montana and South Dakota.