February 13, 2017
Price confirmed for HHS; Verma's CMS interview set for Thursday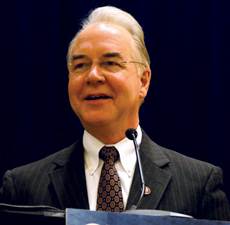 Health and Human Services Secretary Tom Price
Rep. Tom Price (R-GA) was confirmed by a 52-47 vote as the new secretary of the Department of Health and Human Services Friday.
Price's experience as an orthopedic surgeon has long led him to weigh in on suggestions for healthcare reform, and he has been a staunch supporter of Republicans who want to kill Obamacare.
"Having Dr. Tom Price at the helm of HHS gives us a committed ally in our work to repeal and replace Obamacare," House Speaker Paul Ryan (R-WI) said Friday.
Price, who has been in Congress since 2005, was a featured speaker at the 2011 American Health Care Association/National Center for Assisted Living Congressional Briefing. Price's "healthcare expertise and emphasis on patient-centered care will help us build upon our ongoing efforts to provide quality long term and post-acute care to the elderly and individuals with disabilities," said AHCA/NCAL President and CEO Mark Parkinson in a statement Friday.
LeadingAge CEO Katie Smith Sloan said the organization looked forward to working with Price and his administrative team at the Centers for Medicare & Medicaid Services "to develop a meaningful regulatory system that not only addresses compliance, but serves to drive quality excellence for the individuals served and the staff that care for them."
Seema Verma, the administration's choice to lead the Centers for Medicare & Medicaid Services, is scheduled for her first hearing with the Senate Finance Committee Thursday at 10 a.m.