October 01, 2012
Payments, not punitive measures, at heart of plan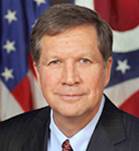 Gov. John Kasich (R-OH)

OHIO – A plan to incentivize providers for better care with financial rewards instead of penalties is gaining traction among the state's 970 nursing homes. Advocates say the pay-for-performance model could eventually improve quality, while opponents claim some incentives are either too weak or unattainable.

The plan, endorsed by Gov. John Kasich (R), would attach strings to about 10% of Medicaid payments based on nursing staff levels, resident satisfaction scores and medical complication rates, according to a USA Today report.

Ohio joins Colorado, Georgia, Kansas, Nevada, Oklahoma, Utah and Vermont, which are experimenting with such incentives for nursing homes' ability to achieve specific standards.

The federal Medicare program piloted a plan similar to Ohio's in Arizona, New York and Wisconsin and is evaluating the results to determine whether to adopt the measure.

SOUTHEAST
Operator gets 20 years
GEORGIA – Federal prosecutors say a 64-year-old former nursing home operator diverted more than $8 million in Medicaid and Medicare payments over three years for personal use.

In August, George D. Houser was sentenced to 20 years in prison, representing the first time in history a defendant has been convicted in federal court for submitting claims for payment for "worthless services."

His conviction also included failing to pay his 2004 and 2005 personal income taxes.

He also was being investigated by the Internal Revenue Service for not paying more than $800,000 in employee payroll taxes.

Houser diverted millions from Medicaid and Medicare payments between 2004 and 2007 and used the funds to purchase homes, real estate, vacations, cars and other amenities, prosecutors said.

Meanwhile, Houser, who operated two nursing homes, had been under scrutiny from the department of health for numerous complaints about poor facility conditions, which included leaky roofs, low staffing and food and drug shortages.

The operator allegedly failed to pay vendors, forcing his staff to provide food and laundry services for residents out of their own funds.

Clown robber pleads guilty
WEST VIRGINIA – An armed robbery by a long-term care facility employee has intensified focus on the long-standing issue of medication dispensing in nursing homes.

The 26-year-old West Virginia woman said she robbed the Teays Valley Nursing Home to obtain the painkiller oxycodone in a spree that ended with a bank robbery three weeks later in West Hamlin.

Morgan Marie Mullins, who walked into the nursing home wearing a hoodie, gray scrub pants and a clown mask, told police she had been addicted to the painkiller for three years.

Mullins will be sentenced on Dec. 5 and faces a mandatory minimum 7-year prison term, as well as a fine of up to $750,000.

Chronically ill go home
FLORIDA – Companies that provide home-based primary care services claim they will save the Medicare program millions of dollars in a pilot program designed to treat chronically ill patients in homes instead of costlier nursing home settings.

Under the Medicare-sponsored "Independence at Home" program, firms such as Housecalls Express and Mobile Medical Associates will provide pilot primary-care doctors and nurse practitioners to treat Medicare patients with two or more chronic conditions and needing help with at least two ADLs such as walking and eating.

Other requirements include a non-elective hospital admission and rehabilitation services within the past 12 months, according to TCPalm, an online newspaper.

A federal Medicare official told the newspaper the aim of the program is to improve patient care and cut costs by reducing hospital and nursing-home admissions.

Isaac forces evacuation
LOUISIANA – Floodwaters as high as 14 feet forced the evacuation of 112 nursing home residents in Plaquemines Parish, one of the hardest hit areas during Tropical Storm Isaac's landfall on the Gulf Coast in late August.

The most frail were sent to a sister facility, the rest to a military base.

Observers say the efficient two-hour evacuation in the finger-like peninsula on the state's southeastern coast revealed just how far emergency preparedness plans have been improved since Hurricane Katrina.

According to the American Health Care Association, Louisiana evacuated 12 centers and over 1,200 residents total, all without reported fatalities or serious injury.

An additional 55 facilities in the state moved to generator power but did not evacuate.

In Mississippi, 10 centers shifted briefly to generator power during Isaac, with no evacuations or injuries.

WEST COAST
Elder surge jars planning
OREGON – A coming surge in chronically ill seniors, coupled with higher numbers of Alzheimer's cases, threatens an already fragile state healthcare budget straining to pay for long-term care in the years to come.

The number of Oregonians 65 or older will jump to 20% of the total population by 2030, or one in five, according to Michael McCormick, deputy director of the Oregon Department of Human Services.

More startling is a recent report that found Alzheimer's cases in the state surged by 33% between 2000 and 2010 and will increase by another 40% in just 13 years, according to the Oregonian online newspaper.

Some say Gov. John Kitzhaber's (D) well-intentioned support for reform efforts that favor wellness, preventive care and better disease management needs to better account for an unexpected exodus of wealthier seniors (and their income taxes) and a surge in the poor elderly population needing expensive care in the years to come.

Record overpayment fine
CALIFORNIA – In the largest overpayment case of its kind in California, a health maintenance organization, will have to give back $320 million that federal and state Medicaid programs said they overpaid dating back nearly 30 years.

State officials pursued the case against SCAN Health Plan even though a U.S. attorney found the company was not at fault for the Medi-Cal payment "errors," claiming that SCAN did not provide key financial information to the state Department of Health Care Services.

Officials said some of the overpayments involved home health patients improperly coded as skilled nursing facility patients.

SCAN admitted no wrong-doing in the case.

The company was ordered to reimburse the state's Medicaid program about $190 million and the federal government $130 million.

SCAN also agreed to pay an additional $3.8 million as part of a Medicare whistleblower suit agreement involving allegations it withheld information about patients' diagnosis codes, according to the Los Angeles Times.

NORTHEAST
'Dual-eligible' care tested
MASSACHUSETTS – Care coordination, one of the key provisions in the Affordable Care Act, is at the center of a novel "dual eligibles" pilot program the state will undertake to better manage services among residents enrolled in both Medicare and Medicaid.

Massachusetts is the first state to join the new Centers for Medicare & Medicaid Services "financial alignment" demonstration project, in which the state and federal government jointly contract with a "designated integrated care organization" to oversee the state's more than 100,000 dual eligibles, according to Modern Healthcare.

The program will use capitated and managed fee-for-service payment models.

A CMS official said the program automatically enrolls eligible beneficiaries but allows them to opt out later.

County homes sold
NEW YORK – At least 10 Essex County-run nursing homes have been sold to private concerns in recent years, and county officials say they expect another dozen to be privatized in New York in the next few years.

The situation illustrates how cash-strapped local governments across the country are forced to make tough decisions, according to a report by National Public Radio report.

The report highlighted the plight of 100-bed Horace Nye Nursing Home in Elizabethtown, which was recently sold by the county for $4 million to Centers for Specialty Care, a firm on a current buying spree of government-owned nursing homes across rural New York, according to the report.

County taxpayers were paying $2 million to keep it operating.

Observers said they fear privatizing county-run nursing homes could lead to operators turning away Medicaid-eligible residents.

MIDWEST
In-home care centralized
KANSAS – A plan to consolidate coordination of in-home Medicaid services for the frail elderly and disabled individuals looms as the state prepares to implement KanCare, a system that will relinquish control of the state's $2.9-billion Medicaid program to the managed care industry.

Under the plan, a single, statewide Aging and Disability Resource Center will replace the work now being performed by more than 30 different organizations in the state's 105 counties, according to the Kansas Health Institute news service.

Department for Aging and Disability Services officials said the current system is inefficient and poses potential conflicts involving placements by independent living centers.

The Aging and Disability Resource Center would coordinate home- and community-based services for approximately 12,000 state residents.

However, it still has not been determined whether KanCare will outsource case management duties for those people.

College, SNF renovations
ILLINOIS – While healthcare reform permeates political discussions, parts of the healthcare industry are taking advantage of a favorable financing climate to prepare for the future, according to a report by Crain's Chicago Business.

"Historically low interest rates," in fact, are among the reasons a burgeoning North Chicago, IL, medical school and suburban non-profit nursing home have recently earned Illinois Finance Authority approval on their expansion and renovation plans, the news outlet reported.

Rosalind Franklin University of Medicine & Science, which is going through a 20% enrollment surge, plans to issue bonds to build a learning center and renovate others areas on its 85-acre North Chicago campus.

The parent company of Lutheran Home for the Aged, meanwhile, will issue new bonds and refinance to add private bathrooms and other improvements, according to the newspaper.

MOUNTAINS/PLAINS
Janitorial firm fined
MONTANA – A janitorial services company is facing the prospect of having to pay $60,000 in fines after Occupational Safety and Health Administration (OSHA) inspectors cited the company with numerous safety violations at a Missoula nursing home.

Healthcare Services Group was cited for failing to provide its employees there with hazardous chemical and bloodborne pathogens training, among other violations.

Those violations included a complaint that the company failed to provide Hepatitis B vaccines to its staff.

The company had previously earned similar OSHA citations at two other skilled nursing facilities, according to the
Missoulian newspaper.