October 04, 2013
Parker Jewish Institute implements robust information sharing, wins award for top-notch transitions between care settings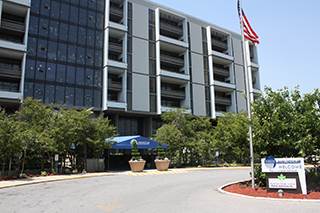 Parker Jewish Institute for Health Care and Rehabilitation
Long-term care providers are under increasing pressure to manage transitions into and out of their centers, as the nation's healthcare system enters an era of greater coordination. Parker Jewish Institute for Health Care and Rehabilitation is on the leading edge of this movement, showing how technology can improve patient outcomes during the transition process. For this, the nonprofit won top honors in the McKnight's Excellence in Technology Awards.
The 527-bed center in New Hyde Park, NY, has implemented a long-term care electronic medical record system, and the Institute is part of a larger technology ecosystem. Clinicians utilize the Healthix Regional Health Information Exchange, which provides patient data from hospitals and other area healthcare providers. They also use the Continuum of Care Improvement through Information New York system, which includes an electronic transfer form with a focus on medication management.
A pilot study during a six-month post-implementation period found that the CCITI NY system led to a 10% reduction in medication errors, according to Parker Jewish. The provider also says its readmission rate to a partner hospital was significantly lower than the rate for nursing homes not using the system. For these accomplishments, independent judges gave Parker Jewish the Gold award for Transitions.
Life Care Centers of America received the Silver award in this category. With development vendors CTS and eMids Technologies, the Tennessee-based company added a new feature, SofCare2, to its electronic health record system. This enables in-house doctors to perform a medication reconciliation at the time of admission, drawing on data from hospitals and other external sources. At the time of discharge, the system enables creation of a discharge summary that can be given to the resident or send in various formats to other providers.
Life Care Centers also won the Gold award in the Quality category.
The Bronze award went to Presence Life Connections. Vindicet's patient management system provides up-to-date information about individuals across the continuum of care. Transitions are a primary concern for PLC, which is part of an approved accountable care network. The technology provides shared patient views. These include "concise summaries" that are nevertheless rich in information about tests, procedures, social history and provider notes, according to PLC. The nonprofit operates SNFs in Indiana and Illinois, and says it has cut admission time to these facilities to less than one hour, thanks to the Vindicet solution.
Two certificates of merit were awarded in this category. One went to the Wales Home, a 200-bed nonprofit in the Canadian province of Quebec. When new residents arrive, they are now given an AeroScout emergency call-bell bracelet, a wireless Internet device that is linked to caregivers' iPods. The company says this technology reduces anxiety around transitions into the facility, and it provides data, such as caregiver response times, that have improved care quality.
Christian Park Village earned the other certificate of merit. The 59-bed community in Escanaba, MI, implemented a multi-faceted technology initiative. It involved the introduction of an incontinence program from Medline and a push to decrease alarms. Christian Park had great success, cutting the number of wheelchair and bed alarms from 44 to two, and implementing the incontinence program for about a third of residents. New residents now arrive to a more tranquil, healing environment, and resident satisfaction levels are up, Christian Park says.
McKesson is this year's sponsor of the competition. This week, the McKnight's Excellence in Technology Awards recognized winners in the following categories:
Monday — Quality in care (Gold: Life Care Centers of America)

Tuesday – Dignity Through Technology (Gold: The Terraces of Los Gatos)

Wednesday – High Tech/High Touch (Gold: Front Porch Center for Innovation and Wellbeing)

Thursday – Innovator of the Year (Gold: Golden LivingCenter-Indianapolis)

Friday – Transitions