October 08, 2008
Offering quality care is goal of new Golden Living CEO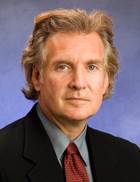 Offering quality care is goal of new Golden Living CEO

Golden Living should be synonymous with quality care, Dr. Neil Kurtz, the new CEO and president of Golden Living, told McKnight's this week.

"My goal: When people think about Golden Living—when they say the word—that they automatically associate it with quality—quality care," said Kurtz, who began his tenure at the privately-held company, formerly known as Beverly Enterprises, in August.

Kurtz, who spent most of his career in the pharmaceutical industry, was previously head of TorreyPines Therapeutics Inc., based in La Jolla, CA. As Golden Living's new chief, he is going to focus on integrated care. What does that mean?

"As our patient moves from one of our companies to another company ... that it is a seamless flow so that the care of the patient is completely integrated into the patient," he said. "The patient just sees themselves as being treated, regardless of where they touch our company."

A video interview with Kurtz with these comments and others will be posted later today on the home page of www.mcknights.com.