July 22, 2008
NIC: Financing in seniors housing falls in first quarter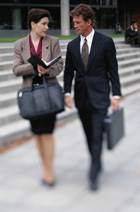 Guest Columns: New rules for nonprofit retirement plans

The amount of financing placed in seniors housing dropped by a precipitous 60% in the first quarter of 2008, according to data released this month from the National Investment Center for the Seniors Housing and Care Industry. That could lead to an easing up on new development.

Loan volume fell to $926 million, with $46 million invested in nursing-home development. The organization, which serves as a resource to lenders, investors, developers/operators and others in the industry, points out that that figure is based on "same-store activity from eight key lenders" and not necessarily indicative of the industry as a whole. But it still predicts it will lead to a slowdown in construction projects among independent-living, assisted-living and skilled-nursing facilities.

Meanwhile, the independent- and assisted-living sectors of the senior housing market remained relatively stable during the first quarter of 2008, especially when compared to the rest of the housing market, NIC said. Blended occupancy rates among assisted-living facilities held steady at around 95%, while independent-living rates fell slightly to 93.3% in the quarter, according to new Key Indicator data.

More information can be found at www.nic.org.