February 12, 2010
New draft legislation would extend therapy caps exceptions process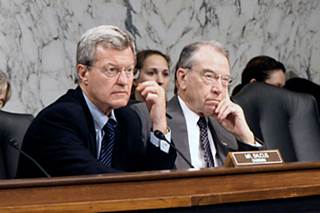 Sen. Max Baucus (D-MT) (left) sits next to Sen. Charles Grassley (R-IA).
Senate Finance Committee leaders Thursday issued a draft of a jobs-creation bill. The legislation would extend the Medicare Part B therapy caps exceptions process and delay through Sept. 30 an impending 21% cut in payments for Medicare physicians.
Senate Finance Committee Chairman Max Baucus (D-MT) and Ranking Member Charles Grassley (R-IA) posted the draft of the Hiring Incentives to Restore Employment (HIRE) Act online, along with a summary. While the bill offers job creation and economic provisions, it also includes some healthcare provisions.
Among its provisions, the bill would provide relief to skilled nursing facilities who have been struggling with the expiration of the exceptions process for Medicare therapy caps. Many residents are at risk of bumping up against the caps ($1,860 for physical and speech therapy combined, and $1,860 for occupational therapy) until Congress acts to restore the exceptions process.