September 02, 2008
New CMS guide serves as road map for Medicare coverage, coding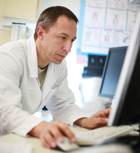 'E'-harmony
The Centers for Medicare & Medicaid Services hopes that a new online guide for Medicare beneficiaries and healthcare providers will be a "one-stop shop" for information on coverage, coding andpayment.
The Innovator's Guide to Navigating CMS is the firstguide of its kind to combine coverage, coding and payment information in one document, according to CMS. The new guide is designed to help developers and technology innovators navigate Medicare requirements by explaining how to make their products available to beneficiaries. In some cases, where a technological advance is groundbreaking, Medicare may need to make explicit coverage, coding or payment changes, according to CMS.
The guide was developed by the CMS Council for Technologyand Innovation (CTI), and released August 25. The full guide can be found at http://www.cms.hhs.gov/CouncilonTechInnov.