December 01, 2014
MedPAC debates end of observation stays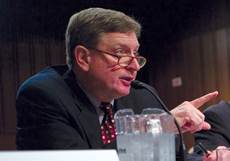 Outgoing MedPAC Chairman Glenn Hackbarth
Observation status should be eliminated as a way of categorizing hospital patients, members of the Medicare Payment Advisory Commission proposed at a Nov. 6 meeting.
Observation stays resulted in 11,000 hospitalizations that ended with a non-covered discharge to a skilled nursing facility in 2012, staffers told MedPAC members. Time under observation does not count toward the three-day inpatient requirement for follow-up skilled care.
Simply eliminating observation stays is one solution, said commission members Craig Samitt, M.D., MBA, and Cori Uccello. Outgoing chairman Glenn Hackbarth expressed qualified support.
Other commissioners said making observation stays into inpatient stays could wreak havoc with billing. Some urged limiting Recovery Audit Contractor activity, which some say aggressively targets hospitals with high inpatient rates.