October 20, 2015
Medicare, Medicaid funding at risk, senator warns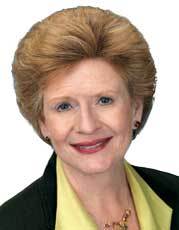 Sen. Debbie Stabenow (D-MI)
Providers may be facing cuts to Medicare and Medicaid reimbursements as legislators work out a budget deal, Sen. Debbie Stabenow (D-MI) said Tuesday.
The Ranking Member of the Senate Finance Subcommittee on Health Care, Stabenow warned that a potential budget deal could result in cuts to reimbursements as legislators seek funding for other areas. She made her cautionary comments at the U.S. News and World Report Hospital of Tomorrow conference in Washington.
Cuts to Medicare and Medicaid reimbursements, should they occur, should be done only in a value-based context — "not because we're trying to figure out how to fund roads" — she added, according to a Bloomberg BNA report.
Stabenow encouraged legislators to model their decisions after the Bipartisan Budget Act of 2013. The act "got us beyond arbitrary, across the board cuts," she noted. The U.S. News conference focused on various critical challenges facing the healthcare industry.