July 27, 2011
Medicaid eligibility limits gaining momentum as a way to cut spending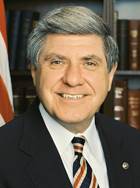 Sen. Ben Nelson (D-NE)

As federal deficit-reduction talks continue, lawmakers from both sides are proposing legislation to tighten Medicaid eligibility rules. The legislators' collective goal is to trim program outlays by more than $13 billion. Not surprisingly, many providers are expressing concern over possible reductions in their largest funding source.

Last week, Sens. Mike Enzi (R-WY) and Ben Nelson (D-NE) offered separate bills that would limit growth in Medicaid enrollments by up to one million people each year, starting in 2014.

The measures would adjust the health law's eligibility criteria to include Social Security benefits in benefit calculations, according to several news reports. Without the adjustment, the entitlement would grow by about 5 million beyond the 16 to 20 million originally calculated for the health law, according to Richard Foster, chief actuary at the Centers for Medicare & Medicaid Services.

Rep. Diane Black (R-TN) has introduced similar legislation in the House of Representatives.