June 01, 2014
LTC nurses likeliest to want new setting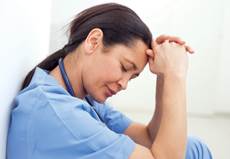 LTC nurses are the most likely to be looking for new workplaces.
Most nurses find their work rewarding and satisfying. But nurses in the long-term care sector appear to be the most likely to want employment in a different setting, according to a survey from CareerBuilder and Harris Poll.
A desire for a better work/life balance was cited by 54% of nurses as the reason they want to change settings. Pay was the second most important factor, named by 43% of respondents.
As in other recent surveys, many nurses said that increased documentation duties and administrative tasks are taking time away from direct patient care. Nearly half (47%) said they believe the Affordable Care Act will have an overall negative effect.
Despite these challenges, 93% of all respondents said they are satisfied with being a nurse and 85% said they anticipate never changing careers.
While 57% of nurses think technology-based tools help them do their job more effectively, 46% believe technology has made patient care less personalized.
The 900-nurse poll was conducted in March.