July 31, 2012
Long-term care industry promoted at Democratic governors conference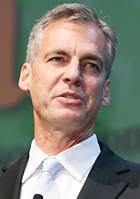 Mark Parkinson
A top nursing home advocate touted the sector's job-generating successes and stressed the need to protect federal funding sources at a recent policy conference for Democratic governors.
Former Kansas Gov. Mark Parkinson, currently the president and CEO of the American Healthcare Association, highlighted the long-term care industry's staffing goals and quality initiatives Saturday at the Aspen, CO-based conference. He added that the industry would continue to innovate and improve care through quality initiatives.
"The protection of provider assessments is crucial as we struggle through multiple rounds of cuts that have affected the long-term care sector," Parkinson said. "The need for these services will only grow as the Boomers age."
In the panel discussion "Creating Jobs through Innovation," which was attended by Govs. Martin O'Malley (MD), Dannel Malloy (CT) and Mark Dayton (MN), Parkinson said that recent industry emphasis on nursing facility-staffing goals will put the industry "on a path to grow with quality as a priority."
Parkinson was on the panel at the Democratic Governor's Association Regional Policy Conference with DaVita's Senior Vice President of Operations Chris Riopelle; SAS' Government Fraud Solutions Specialist Carl Hammersburg; and WellToks' Executive Chairman Jeff Margolis.