August 01, 2012
Loneliness has major impact on mortality, function decline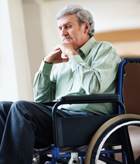 Loneliness has major impact on mortality, function decline

A deep sense of loneliness is not just an indicator of a person's mental health — new research says it also can be linked to greater risk for death and functional decline.

Regardless of whether an individual lives in a long-term care facility or in his or her own home, loneliness can impair their quality of life, experts said.

"Assessment of loneliness is not routine in clinical practice and it may be viewed as beyond the scope of medical practice," study authors from the University of California-San Francisco wrote. "However, loneliness may be as an important of a predictor of adverse health outcomes as many traditional medical risk factors."

But caregivers might be able to minimize the impact of loneliness by taking one small but important step: asking an elderly person about his or her feelings. Experts say that even if loneliness weren't considered a health risk, it is a negative feeling worth addressing.

Researchers studied data related to functional decline from more than 1,600 participants in the Health and Retirement Study.

Participants were asked what percentage of the time they felt lonely and whether they felt like they lacked companionship. After a six-year follow-up period, researchers noted a 22.8% increased risk for death and a 24.8% risk of noticing a decline in activities of daily living.

The study was published online in the Archives of Internal Medicine.