November 07, 2013
Less frequent turning is needed with the right equipment and practices, pressure ulcer study finds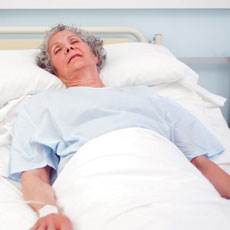 Septicemia, urinary tract infections rank high on latest list of hospital readmissions causes
Nursing staff can turn residents less often if high-density foam mattresses and attentive documentation are being used for pressure ulcer prevention, according to a recent study.
The study involved nearly 950 residents in U.S. and Canadian nursing homes. They were at moderate or high risk for pressure ulcers, based on the Braden Scale. All were given a high-density foam support surface and were turned at two, three or four hour intervals.
After three weeks, the incidence of pressure ulcers was the same for all three groups, the researchers found. This was surprising because the moderate-risk group was "significantly different" than the high-risk group with regard to eating and brief changes, the researchers noted. They also found that the overall pressure ulcer incidence was low (2%).
"Data suggest that the combination of support surface, repositioning, and documentation were successful in preventing ulcers in the moderate- and high-risk groups," the authors wrote.
The role of documentation should not be overlooked, they noted. Consistent documentation might have reminded certified nursing assistants to elevate heels, work on toileting and continence, and engage in other preventive measures. The results also suggest that facilities should consider transitioning to high-density foam mattresses, the researchers stated.
Nancy Bergstrom, Ph.D., RN, of the School of Nursing at the University of Texas Health Science Center, is a corresponding author. Other researchers were based in Utah and Toronto.
The findings appear in the current issue of the Journal of the American Geriatrics Society.